Three-Lunch Schedule Soon to Come
The administration is planning to implement a schedule for the coming school year with three shortened lunches and a restricted layout. Principal Brian Shillingburg cites three principal reasons for the change: safety, misbehavior, and littering. 
The current lunch schedule allows students to eat in the commons, both courtyards, the library, and certain hallways downstairs. Shillingburg cites safety concerns about students being spread out because announcements cannot be effectively delivered to everyone during lunch. 
First, safety has become a priority due to what Shillingburg describes as the "environment we live in". An increase in the number of school shootings has resulted in the rollout of measures like ID badges for all students; shorter lunches are intended as another step toward ensuring safety on campus, as students will be confined to the commons and atrium under greater supervision.
Additionally, Shillingburg cites student misbehavior during lunch as a factor in the decision to change the lunch schedule. A shorter lunch in a monitored area is intended to prevent students from wandering around, especially in unsupervised areas like restrooms.
Lastly, the change aims to tackle the issue of student littering during lunch, which has created an enormous workload for the custodial staff of four people. Head Custodian Anthony Grant predicts that three lunches will reduce littering, as students will no longer be eating in the downstairs hallways.
"I think it's a good change," Grant said. "Even if it wasn't for three lunches, we would still work with two, because whatever decision is made we always adjust, but three, I think is a good decision."
Shillingburg emphasizes his prioritization of service as principal, especially respecting the people who he says "work the hardest", like custodians and lunch staff. However, the decision poses repercussions for both staff and students.
"I think there would be something gained and something lost because we usually use our long lunch to get work done and have PLC meetings with our group members," AAC English II teacher Faith Orsargos said. "If it's just a shorter lunch, then we would probably not do that as often, if at all."
Orsargos also mentions the possibility of having a B-lunch that splits fifth-period classes in half as a cause for worry, especially among AP classes that have to practice timed writing. Though Shillingburg says the new schedule will aim to support staff, students will also lose the opportunity for retesting and tutorials during lunch.
"First, I think students are going to be affected by retesting and it's going to get in the way of clubs outside of school, so now they have to squeeze in retesting, make-up testing before or after school," Student Council President Anna Wang said. "I think they're going to be strongly against the thirty-minute lunch just because it's such a short time period and they like to use this time to catch up on school work, talk to their friends."
In a poll taken by the RoundUp, over 96% of 126 student respondents answered in favor of keeping the current lunch schedule. Comments ranged from humorous – "Fifty minutes is keeping me from mental despair" – to pleading – "Give us 50-minute lunches PLEASE". 
"Having 50-minute lunches gives me the opportunity to talk to my friends and finish up homework," Sophomore Kelly Gao said, "This is our only time to talk to our friends in a way that is not rushed nor in a classroom setting."
A petition spread among the student body to keep the current lunch schedule has gained over six hundred signatures. Additionally, AAC English II students participated in writing letters to the administration for extra credit.
"I think it has the possibility of planting seeds," Orsargos said. "I still think it's meaningful for the admin team to see letters, to see the voices, and to hear from the top-of-the-class students that are often not going to be the ones to shout out in defiance."
While Shillingburg says that student efforts at this point cannot stop the change from taking place for the upcoming year, it may not be permanent. Unofficial results from the May 6 bond election indicate that voters passed all three prepositions, which would provide funding to rebuild Clements and improve security. Shillingburg says that undertaking this change would open the future possibility of returning to two lunches.
Leave a Comment
About the Contributors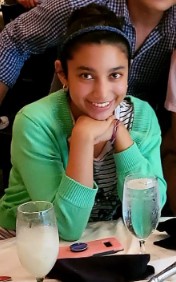 Stacy Saucedo, Reporter
Hi, I'm Stacy, I'm a sophomore and I'm apart of the RoundUp newspaper! This is my first year in journalism news, while also being my 2nd year in journalism....
Karen Wei, Reporter
Hello! My name is Karen. I am a sophomore and an older sister. I moved to the Houston area two years ago from the Dallas area, although I was born in Kansas....