Fashion Weekly with Luz & Fallyn
Exploring the diverse types of fashion in Clements High School with Luz & Fallyn!
First Interview: Elle Nguyen (Junior) 
Q: What are you wearing today? 
A: Today I am wearing a graphic tee. Its a band shirt Korn because I love Korn. I'm wearing flare-ish pants, and they have straps on the side. Then, I'm wearing my four and a half inch shoes because I'm short and I don't like to be short, so I refuse to even though I am! Then, I'm wearing a whole bunch of rings, they're black and silver. They have gems all over. Then, I have bracelets on the side, some are beaded, and others are strapped. I have my headphones on because I love these headphones and they also have really good audio quality! Next, I have some necklaces layered on because layering is important! Layering is very important in fashion.  
Q: What are three words 3 words you'd use to describe your personal style? 
A: I don't even know to be honest… I guess… Emo. Dark and unique, I guess. 
Q: What time periods do you find fashion inspiration from? 
A: I think the 80s and 200s definitely. 2000s, y2k! I like stars and I just like stars. I like tramp stamps but personally I would not get them, but they're cute and nice. 80s, I love punk rock. I like those eras, they're so fun! 
Q: If you had an unlimited budget to spend on clothes, what pieces would you buy? 
A: I'd buy a whole bunch of shoes, flare pants, and accessories. Just I love clothes in general, so really cool accessories because accessories do make up a good outfit. I really like tank tops like detailed tank tops. Also, coresets! Coresets are so expensive. So, if I had a really good budget, I'd buy some really nice coresets. 
Q: What are your favorite colors to wear? 
A: Red and black, that's it. Red is my hair color. Red, black, and white. Color is not me. I just wear black no matter the weather, I don't care how hot it is. I will wear black. 
Q: Do you have any favorite pieces to wear? 
A: These Demonias, studded belt, and my rings. 
Q: Are you an accessories person or more a jewelry person? 
A: I'm more jewelry. I'll wear one belt but like jewelry is my main thing because you could do so much with it. You have a variety when it comes to jewelry. 
Q: What would you describe as your signature look? 
A: Flare pants, they have to be low-rise. Crop tank top and an off the shoulder jacket, I lke a thin leather jacket. Shag wolf haircut and headphones! Boom! Never go wrong with that, except I can't wear it to school. That's what I love to wear, its just good every time. 
Leave a Comment
About the Contributors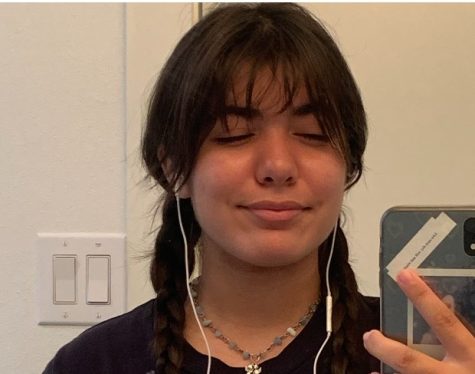 Luz Martinez, Reporter
Hi, my name is Luz Martinez! I'm a junior here at Clements high school and this is my first year working for Clements RoundUp. I love taking photos at...
Fallyn Sanders, Reporter
Hello! My name is Fallyn Sanders, and this is my first year in the newspaper. I'm a junior and I'm creating a fashion column every week with my partner...