On Oct. 21, the Marching Band headed to the biggest competition of their season – UIL Area E. 
The area competition includes 6A bands across the general Gulf Coast area. Well-known as a prestigious band, the marching band previously held a streak of advancing to the state level for 28 consecutive years. The streak was broken in 2022 when the band did not place high enough at the UIL Area finals. 
"We have high contention this year because only four bands will make it to state," Varsity band member Jonathan Le said. "Outside of Clearbrook, Brazoswood, and Pearland high schools, I think we have a good chance."
This year, the marching band is determined to revive its streak and become state-level competitors once more. To do so, they have employed the use of a variety of new techniques and doubled their efforts in practice. 
"This is probably one of the hardest shows that I've done in my three years being here because it requires everyone's participation in order to function," junior and drum major Sophia Cobb said. "Our show design this year is very creative and allows the people in our band to truly express themselves and create their own [choreography] through different movements within our show."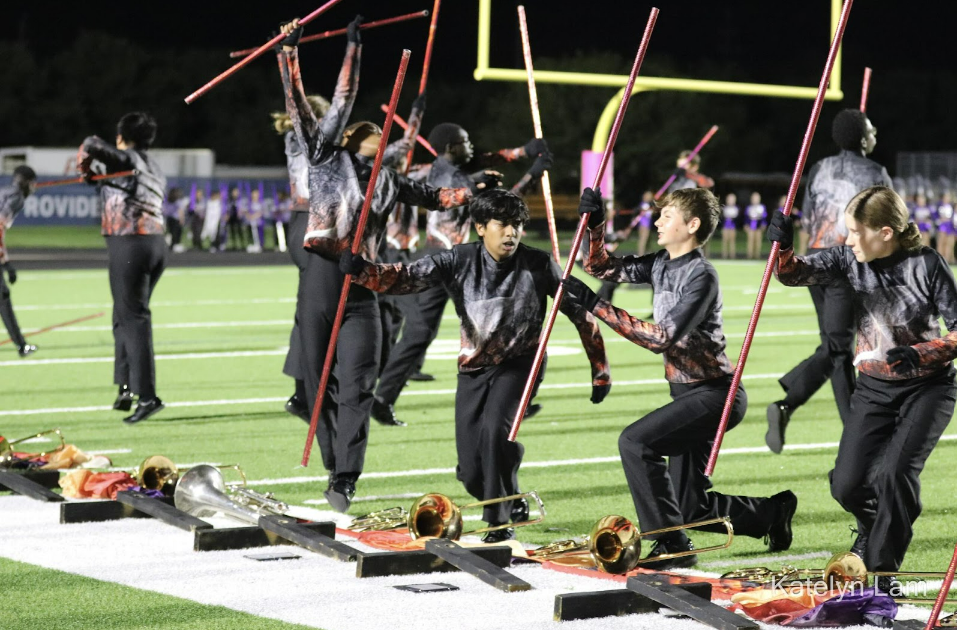 This year's show theme focuses on the different ways that people come together around a fire: Gathering, Prayer, Ritual, and Celebration. Each part reflects on a different aspect and different emotions of the experience portrayed through the intricate dances, marching, and music. The new show involves the application of color guard pole choreography from band students. This is a never-seen-before, groundbreaking concept that required hours of dedication from the band, color guard, and staff alike. 
"When there are eight bands fighting for one spot, it all comes down to the tiny details," Varsity color guard member Bhavya Kesaria said. "And for the tiny details, we gotta lock-in."
Starting full-day practices weeks before school started and hours every school day, marching band students show innumerable levels of energy and effort. They often forsake sleep and free time for extra hours of practice and late-night competitions. Only the four best bands will advance, so competition is tight. With UIL Area rapidly approaching, many band members have high hopes for their performance. 
"I believe we will do well at the [UIL] Area Contest," drum major and senior Amina Sidi-Ali-Cherif said. "However, regardless of our placement, we can all walk off the field feeling successful and proud of ourselves as long as we performed to the best of our ability."
[Update: The band went on to Area on October 21st, 2023, and received 5th place in the finals. While they did not advance to state, Director Jeff Johnson said, "I am incredibly proud of what we have accomplished this season."]