Mental Health and Online School
While many publications have discussed the mental health side effects of quarantine or stay-at-home orders, most haven't touched on the deeper impacts that online school has had on students. While some feel liberated by the slightly more lenient schedule and generally longer work times, others have described a feeling of isolation, increased stress, and a sense of detachment from their teachers and friends. 
On the latter end of the spectrum, student Ness Morgan commented about the lack of socialisation and routine she felt. 
"Our teachers were kind enough to give us some grace, dropping grades and all, which I really appreciate." Morgan said. "It definitely took off some of the academic pressure but on the other hand, it's been super lonely. I never thought I'd miss being at school so much. But, I still don't feel safe to come back, so I'm stuck here for now." 
Specifically regarding mental health, some students commented on how they felt expected to "teach themselves" the content, including Anna Jackson, a junior. 
"I think, for different lifestyles, It works differently. For me, it's worked brilliantly, someone slightly familiar with teaching myself," Jackson said. "I think my mental health was most impacted though, by being forced to stay inside and stare at a screen even more."
However, Robin Griffin, a senior, addressed a deeper, underlying issue with the online learning model, one they believe Fort Bend ISD has failed to address entirely. 
"Online schooling fails to take into account the needs of neurodivergent students who may require the structure of in-person teaching," Griffin said. "It's left those students to themselves in regards to figuring out completely new coping strategies for a whole new type of schooling. It's created such a deep amount of panic, and most of us don't feel uncomfortable reaching out for help through email."
Online school doesn't look like it'll be going away any time soon, and most students are grappling with a system that they feel doesn't address their needs, calling it "even more stressful" than traditional face-to-face learning.
"It feels like our teachers are trying to be more accommodating, and I appreciate it." Griffin said. "But the cutthroat deadlines, the constant need to be on top of everything with no leniency, staring at screens for hours a day…it's all too much."
Leave a Comment
About the Writer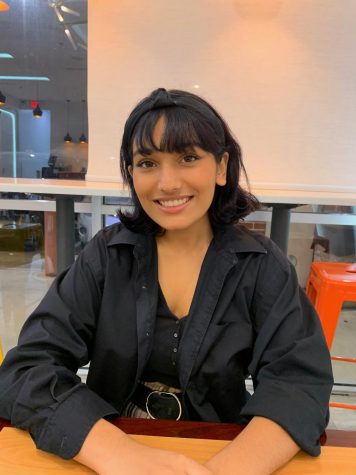 Eira Mann, Reporter
I'm Eira Mann, a senior at Clements and this is my second year on The Round Up! I'm super excited to be back for my senior year.