Green foods bring festive light to St. Patrick's Day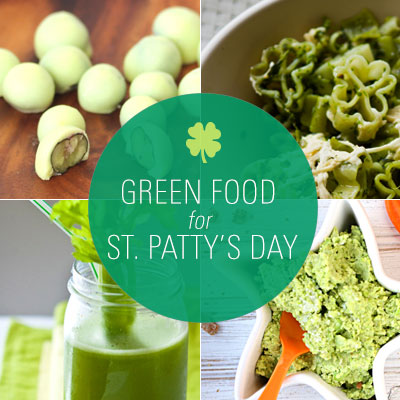 Unless there's a way of finding a pot of gold at the end of a rainbow with leprechaun friends before March 17, we'll have to find alternate ways of staying in the spirit of St. Patrick's Day.
The best way to do this without making it a hassle this year is through the sugar craves we can all relate to. Check out these original, green treats:
 Shamrock Shake
2 scoops of mint chocolate chip ice cream

1 scoop of vanilla bean ice cream

1 cup of milk

1 small handful of ice

¼ cup mini chocolate chips

A dash of mint extract

1 sprig of mint, garnish

1 cookie, garnish

Whipped cream, topping
Place all the ingredients in a processor and blend. You can change the ice cream to milk ratio based on how you like your milkshake consistency: Add more milk for a runnier shake and more ice cream for a thicker shake.
Pour the shake into a glass and top with whipped cream. Then, garnish with a mint sprig and your favorite cookie.
Servings:  2-3 glasses
 Rainbow Rice Krispies
10 oz. bag of marshmallows

6 cups Rice Krispy cereal

4 tablespoons of butter, plus more for greasing

Mini marshmallows

Rainbow sprinkles

8 oz. White chocolate chips

Food coloring
Place a pot of boiling water on medium heat. As the water comes to a boil, place a heat safe bowl over the pan (this is a double boiler).
In the bowl, add the butter and 10 oz. of marshmallows. Mix the two over the gas and let the marshmallows melt. Stir constantly to prevent stickiness and overcooking.
While the marshmallows are melting, place 6 cups of Rice Krispy cereal in a big bowl. Once the marshmallows are all melted, pour the mixture into the cereal and fold together for a good 5 minutes. Then, fold in mini marshmallows and sprinkles – you can change the amount as desired.
Take a greased, square/rectangular pan and pour the krispie mixture in, patting it down with the spatula and your fingers to even it out. Then, take another pan and tightly press the krispie mixture to ensure it stays compact. Remove the pan and place the krispies aside.
Set up another double boiler to melt your white chocolate chips. Once the bowl heats, place the chips in and add a dash of vegetable oil or shortening to create a velvety smooth texture.
Once melted, turn the gas off and add food coloring of your choice (I chose green, but you can do any color/multiple colors if you want. Just separate the chocolate into the same number of bowls as colors and mix). Drizzle the chocolate with a spoon over the krispies and refrigerate for an hour or two.
When ready to eat, cut the krispie mixture into squares and enjoy!
Servings: 12 squares
 Clover Cookies
1 package of sugar cookie dough

Clover/Flower cookie cutter

Wax Paper

Rolling pin

Butter, coating

Green sprinkles, Topping
Take a package of sugar cookie dough (or make it from scratch!) and roll out the dough on some wax paper. Then take your flower or clover cookie cutter, make shapes on the dough, and begin placing them on a greased, cookie sheet pan.
Based on the package instructions, bake the cookies for the suggested time. Remove when finished and quickly brush melted over the cookies. Then top with granulated, green, sugar sprinkles for decoration and let the cookies sit. After a few minutes, enjoy these good luck charms!
However, it's understandable that not everyone has a sweet tooth. So for those gym freaks, athletes, or sugar haters in general, here are green treats made healthy.
 Kale Chips
1 Large Bunch of Fresh Kale
4 Tbsp. Olive Oil
Baking Sheet Pan
Salt
Start by taking the kale, stick by stick, and ripping the ribs of the kale off the stem, placing them in a large bowl. Wash the kale and then season with olive oil and salt.
Place in a large baking sheet pan, distributing the kale evenly, and bake for 20-25 minutes. Be sure to turn the kale over halfway through the baking time.
 Guacamole
1-2 Avocados
1 Small Onion
1 Tomato
3 Sprigs Cilantro
¾ Tbsp. Lime Juice
Salt, to taste
Pit 1(or 2) avocados and save the seeds to the side. Scooping the actual avocado from the skin, place the avocados in a bowl and begin mashing. Then set aside.
Chop the onion, tomato, and cilantro and mix in with the mashed avocado. Season with lime juice and salt. Then take the avocado seeds and put them in the guacamole to prevent it from browning.
Follow these 'Green Foods' recipes every year for festive eating! Who knows, St. Patrick's Day might actually become something to look forward to.