Colin Kaepernick gives nation a wake up call
National football is back, week one is over, Tom Brady is still suspended, but the one thing looming over everyone's mind are silent protests.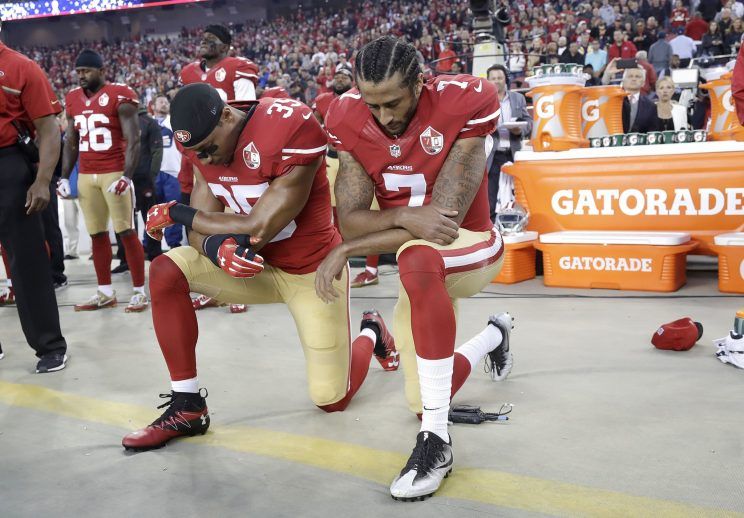 Over the past few months, the nation witnessed violent outbreaks and murders against what some say are innocent, people of color. These incidents created huge debates over whether or not the violence targeted people of a certain race, leaving many frustrated and disappointed.  People now doubt the honesty of the police force in belief that racism still encompasses the nation.  This is specifically the case with NFL star, Colin Kaepernick, back-up quarterback for the San Francisco 49ers.
Kaepernick was first noticed kneeling, for what was actually the second time, during the national anthem at the week three preseason game between the 49ers and Green Bay Packers on August 26th.  This news quickly circulated far and wide sharing mixed feelings all around the nation.  Many people demanded to know why he chose to dishonor our country while others vocalized their support for his decision.
In his immediate response, Kaepernick explained, "I am not going to stand up to show pride in a flag for a country that oppresses black people and people of color".
This created uproar among those against him. While some burned his jersey, others took to social media to oppose him, making comments such as:
"Kaepernick not standing for National Anthem: I respect freedom of choice, but if he really wants to take a stand? Give back his NFL salary!"
"Since he isn't talented enough to get attention on the field, @Kaepernick7 is becoming a clown off the field…"
Even former football quarterback for the Tampa Bay Buckaneers, Trent Dilfer made initial comments saying that he felt it wasn't the player's place, especially being a back-up quarterback, to make such a huge decision, but Kapernick firmly stood his ground.
"The fact that you say, you know, you're a back-up quarterback stay in your place – that's an issue… I would ask him to really have a conversation with the families of people that have been murdered and see if he still feels that way, cause I bet you he doesn't," Kapernick told reporters.
So clearly, not many are happy with his attitude and what they believe to be antics.  But aside from the negative commentary, many people have come to his defense. This issue reached the White House, as President Obama, who was at the moment in China, made a statement to clarify his feelings towards Kaepernick's silent protest against the nation.
"In terms of Mr. Kaepernick, I've got to confess that I haven't been thinking about football while I've been over here and I haven't been following this closely, but my understanding, at least, is that he's exercising his Constitutional right to make a statement."
An attempt has even been made to justify Kaepernick's decision to kneel during the national anthem by many supporters who say he simply exercised his rights.  The 49ers management recently issued a statement.
"The national anthem is and always will be a special part of the pre-game ceremony. It is an opportunity to honor our country and reflect on the great liberties we are afforded as its citizens. In respecting such American principles as freedom of religion and freedom of expression, we recognize the right of an individual to choose to participate, or not, in our celebration of the national anthem."
And it is this very explanation internet supporters  use to say that his right in  choosing whether or not he wants to stand is being disregarded.  In fact some would even say that the anger built up towards him is Kaepernick's justification. 
American journalist, Ben Swann, through the YouTube show "Reality Check" expanded on this, saying, "In 2015 alone, 102 unarmed black men were killed by police nationwide and hundreds have died every year…If you feel outrage when you see [Kaepernick sitting down] and yet you do not feel any outrage when you see [images of innocent, unarmed men who were shot to death by the police], white-handedly, isn't that the problem?"
Evidently the nation is split between those supporting him and those disgusted by him.  But disgusted or not, Kaepernick's silent protest turned into a movement that the country now sees as unstoppable as other players like Arian Foster and the Miami Dolphins followed in Kapernick's footsteps.  Marcus Peters (Kansas City Chiefs), Martellus Bennett, and Devin McCourty (New England Patriots) decided to hold their fist up during the national anthem as a sign of rebellion against a nation that needs justice, and the entire Seattle Seahawks team even went as far as holding hands during the  ceremony to signify and promote racial unity.
Kaepernick has made no comment on this chain reaction as yet.  However he told reporters, "They're a lot of things that need to change, uh, one specifically, police brutality. There's people being murdered unjustly and not being held accountable. Cops are getting paid leave for killing people…"