It's Crunch Time!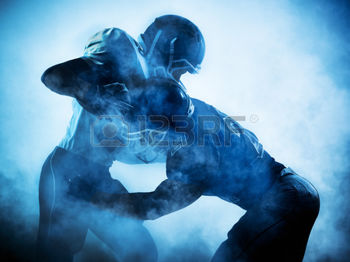 "Hut, Hut, Hike!!"
"He throws the ball – AND ITS INTERCEPTED!!! The crowd goes wild – AND TOUCHDOWN!"
These chants have taken over the country since August of 1920 when the National Football League (NFL), originally known as the American Professional Football Association (APFA), was established. The League is made up of two conferences, the American Football Conference (AFC) & its counterpart, the National Football Conference (NFC). Each conference consists of four divisions: North, South, East, & West, and each division contains four teams. For a total of 32 teams, each one must play 16 games to see who will make it to the playoffs.  
It's Week 13 of the 96th NFL Season 2016 and the games are just now getting tough. Up until this point, many teams have shown inconsistencies with their performance: the Oakland Raiders, the Baltimore Ravens, the New York Jets, the Detroit Lions, and the Dallas Cowboys to be specific. Thankfully our very own Houston Texans, who were at one point sailing in the same boat have now begun picking up the speed with four recent consecutive wins, standing at six wins and six loses. But ultimately, the only chance any of these teams have at actually making it through the playoffs is with continuous wins.
There are, however, a bundle of teams that have displayed immense teamwork, skill, power, and game: the Patriots (New England), the Broncos (Denver), the Cardinals (Arizona), and the Panthers (Carolina).
Currently the No. 1 team in the league, the Panthers has taken America by storm with their undefeated streak of 12 wins. If you take a quick look at their last season, they surprisingly made it to the playoffs with a tragic standing of 7-8, all thanks to their underachieving division. But this time they've come on their own merit, and they're ready to play tough. In fact, they are the perfect example of how a team needs to work together in order to succeed, much of which is credible to their starting quarterback, Cam Newton. He took a team that many considered to be a joke all the way to the top and is now one of the greatest players we've seen all season.
But if he's managed to make his team No. 1, why isn't he NFL's most popular player? I believe the name Tom Brady speaks for itself. Even if you don't watch football, you've definitely heard of him. He can read a situation with such precision and sensibility that he knows what play to make and when to do it in order to win. His stats this year show 3,600 passing yards – the most any offensive player has done this season – and 28 touchdown passes. Labeled a football legend, Tom Brady is by far the greatest quarterback the NFL has ever seen.
But of course, there are many other successful teams that hold wonderful talent, even if they're season has been pretty average:
Green Bay Packers: Aaron Rogers, starting QB – one of the best quarterbacks in the league.
Denver Broncos: Payton Manning, starting QB – one of the best quarterbacks in the league with highest number of touchdown passes this season.
Cincinnati Bengals: Andy Dalton, starting QB
Indianapolis Colts: Andrew Luck, starting QB – winning QB potential
Seattle Seahawks: Russell Wilson, starting QB
And for those teams with talent but not enough execution:
Houston Texans: J.J Watt, defensive end, named No. 1 on NFL's Top 100 Players of 2015
Pittsburg Steelers: Ben Roethlisberger, starting QB, one of the best quarterbacks in the league
New Orleans Saints: Drew Brees, starting QB, one of the best quarterbacks in the league
Dallas Cowboys: Tony Romo, starting QB, one of the best quarterbacks in the league
In addition, many of the players listed above have records that come close to Brady's and have led their teams to a championship numerous times! If anyone can get their teams into the playoffs with a likely chance of a Super Bowl, it's them.
As of now, everyone's betting their money on the Patriots (10-2) vs. Panthers (12-0), but you never know what'll happen in football!
These are the teams, no. 1 in their division, that have a good chance of working their way up to the Super Bowl (the New England Patriots & the Carolina Panthers are pretty much a shoe-in):
Cincinnati Bengals (10-2)

Week 14: Bengals vs. Steelers

Week 15: Bengals vs. 49ers

Week 16

: Bengals vs. Broncos

Week 17: Bengals vs. Ravens

Green Bay Packers (8-4)

Week 14: Packers vs. Cowboys

Week 15: Packers vs. Raiders

Week 16

: Packers vs. Cardinals

Week 17: Packers vs. Vikings

Denver Broncos (10-2)

Week 14: Broncos vs. Raiders

Week 15: Broncos vs. Steelers

Week 16

: Broncos vs. Bengals

Week 17: Broncos vs. Chargers

Arizona Cardinals (10-2)

Week 14: Cardinals vs. Vikings

Week 15: Cardinals vs. Eagles

Week 16

: Cardinals vs. Packers

Week 17: Cardinals vs. Seahawks
*Week 16: Talk about INTENSE!*
And with a little bit of luck, even the Seattle Seahawks have an offside chance of winning. (Would I be pushing it to say the Texans might make it?)
So as Week 13 comes to a close, 4 more games lie ahead, each extremely important in deciding who will come out on top. Let's see who will play their best in the battle for football supremacy!