From Freshman Ensemble to Senior President: A Look into Clements Theatre's UIL Leading Actress
To say she's busy is an understatement. 
Bustling between theatre rehearsals, thespian meetings, her leadership position, college applications, and AP classes, the balancing act is a heavy role to be in.
Plus, the added pressure of an upcoming play for her troupe is all weighing on her. For Ava Hosseni however, she's used to it.  
Ava Hosseini has been a part of theatre since she was in 6th grade, now, as a senior, she serves as president of the Clements Theatre Troupe 3689. Now, the troupe is preparing for their next performance, which is also a UIL competition event.
On March 5, 2022, at 7 p.m. the troupe will be performing their UIL play at Clements. Two days later, on March 7, 2022, at 5p.m they will compete at  Elkins High School. If successful, the troupe will advance to districts, which will be announced on March 7, 2022.
When asked about what drew her to theatre for 7 years, Ava reflects on all she's learned and experienced during this time. 
"I love the meticulous attention to detail that is required as a thespian. Honestly, I couldn't see myself in any other extracurricular," Ava said. "Putting on a production requires knowing the script, dialogue, and playwright's intention inside and out. Every moment in the play is thought out, rehearsed, adjusted, and then applied. It can be grueling and physically demanding, but getting to perform in front of a live audience is an unmatchable feeling."
Being president comes with the responsibilities expected of the role, but also includes being the representation of the troupe as a whole.
"I oversee departmental events and make things run smoothly," Ava said.
"Aside from leading troupe and officer meetings, I am also the company representative during our booster club meetings and club nights."
Ava also believes in a bigger role in her job as the representative of the troupe. 
"Making sure the freshmen coming to troupe meetings feel wanted there is so important," Ava said. "In such a big theatre company (in an even bigger school), it's easy to feel displaced and as president, I get to be the one who welcomes them." 
But being president of such a large troupe means problems are natural. 
"When a group of people spends as much time together as we do, we are bound to bicker, Ava said. "As troupe president, it's my responsibility to put out those fires, regardless of my personal opinions. I am honored to get to lead such a brilliant troupe, warts and all."
Ava is mainly an actress, playing in many different roles throughout her time with the troupe. Even through the pandemic, Ava continued to perform. Lisette in La Double Inconstance, Olivia in Twelfth Night, Corie in Barefoot in the Park, Melanie in Rough Magic, and now Hedda in the UIL play Hedda Gabler.
Hedda Gabler tells the story of a woman named Hedda in the late 1800s, coping with the boredom she faces in the constricting society of Victorian-era Norway. Her descent into chaos leads to the destruction of her own life and those around her. In preparation for her role as the leading character, Ava describes her process of approaching the role.
"In general, preparing for a role means trying everything during rehearsals and seeing what sticks," Ava said. "Our director, Mr. Mundy, always tells us not to worry about the character: just get out there and tell the story as a real person. When I am upset, how do I react? How can I apply this onstage?"
Every casting process includes an audition process. Every actress approaches audition differently, and Ava is no different, having a unique technique herself.
"Auditions are much easier if I've read the play beforehand," Ava said. "I always make a point to read the show on my own after we've done so as a class, and figure out the objective my prospective character has in each scene. I don't stress out too much about memorization, because focusing on action takes precedent."
Ava particularly notes that because of her Iranian heritage and ethnic features, she keeps in mind how this influences her auditions.
"Because of my features, I don't think it's likely I'll ever get cast as a Cinderella-Aurora-Juliet, Ava said. "When I got cast as Hedda, it was sort of funny to be like, wow, this is how my director sees me."
Prior to this play was the troupe's last performance, Mamma Mia. Although Ava is typically an actress, for Mamma Mia she chose to work behind the scenes as assistant director. 
"Technicians are so underappreciated," Ava said. "It was a bit of a struggle adjusting to the fast-paced culture backstage, especially as a first-timer. However, because Assistant Directing meant that I was speaking to the entire cast and crew and putting out fires wherever I could, it was probably more similar to being troupe President. When I got the hang of the job, it was definitely very fun, and unlike anything, I'd ever experienced onstage. I have the utmost respect for technicians. I admire anyone with the kind of patience necessary to work backstage for every show."
Today, Ava works tirelessly on perfecting her UIL performance. The UIL competition judges a school based on its ability to put on a solid 40-minute show with limited set pieces, props, and setup time. Acting, tech, world-building, and intention are all factored into the judging. Most frequently commented on by judges are the troupe's ability to work on "human noises," and "active listening."
Ava believes this will be the troupe's greatest UIL performance she's worked on. 
"We're really trying to hone in on the details of the show so as to really perfect it, come UIL. We've somewhat struggled with finding a middle ground between Victorian-era behavior and modern-day people. When you're in a posture corrector, corset, and poofy skirt, it's really easy to use a "Victorian voice" rather than speak like a person. We definitely are working on making everything more natural without erasing the story, but we are on the right track"
Even with the amount of time she's dedicated to theatre, she still attempts to have a balance between theatre, school, and her home life. 
"Next year, I've committed to being a Government major at UT Austin," Ava said. "Later, I hope to go into law school for immigration or international law. Outside of academics, I love reading and music. My favorite book is Anna Karenina, and my favorite artist is Hozier." 
Even with all of the moving parts, Ava is confident her troupe will show off their exceptional abilities during their performance.
"This year, we aim to put on the best show we can and advance further than in previous seasons," Ava said. "I have no doubt that we will execute that goal."
View Comments (1)
About the Contributor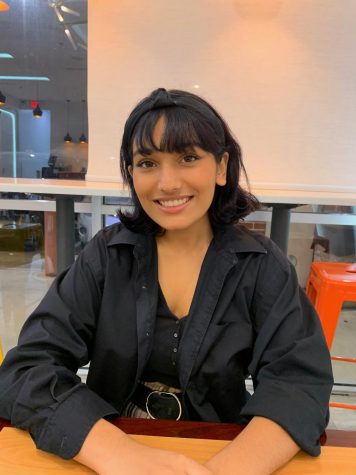 Eira Mann, Reporter
I'm Eira Mann, a senior at Clements and this is my second year on The Round Up! I'm super excited to be back for my senior year.