Album Review: Olivia Rodrigo, SOUR
Olivia Rodrigo's new album "SOUR" is gorgeously derivative and stands on its own feet, removed from the context and controversy of its first single "drivers license."
Rodrigo's first song "drivers license" arrived on the scene with a bang – it reached #1 on international Spotify, Apple Music, and Amazon Music charts, broke Spotify's record for most streams in a week and sat on top of both of Billboard's global charts for three weeks. It was even the basis of a sketch on Saturday Night Live, at which Rodrigo later performed.
Its meteoric rise was in part due to its backstory – fans speculated that it was written about Rodrigo's costar on the Disney+ show "High School Musical: The Musical: The Series" and possible ex-boyfriend Joshua Bassett, who was believed to have moved on with fellow Disney star Sabrina Carpenter (Girl Meets World, Sofia the First). Bassett responded with his track "Lie, Lie, Lie," while Carpenter responded with "Skin," which directly quoted "drivers license" with the line, "Maybe blonde was the only rhyme."
No matter the reason for its success, "drivers license" was a fantastic first single. It demonstrated Rodrigo's lyrical ability and her canny ear, as well as true authenticity to the Gen Z audience that may not have been present with a different style of promotion.
Rodrigo's second and third singles, "deja vu" and "good 4 u" respectively, further demonstrated her talents as a singer-songwriter as well as her musical versatility. All three singles doubled down on a cohesive concept that's present throughout her album – a bitter breakup where the narrator's ex-boyfriend moved on with another girl after only two weeks – despite their sonic differences.
Rodrigo's album is an unabashed and self-aware portrait of teenage heartbreak, elevated by her musical versatility and fabulous instrumentation. Her musical influences are obvious and almost plagiarized – it sounds like she lifted her confessional songwriting style from Taylor Swift (who is also credited as a co-writer on the song "1 steps forward, 3 steps back" for an interpolated melody), many of her bridges and her slurring of her "s" sounds from Lorde and cohesive but nearly repetitive mythology from Lana del Rey. At points in certain songs, she alternately sounds like Billie Eilish, Lana del Rey, or Birdy. But her imitation is done with unusual aplomb and complete mastery of current pop sounds, as well as an ability to drop curse words at opportune times that pulls her out of standard Disney star-turned-pop singer molds.
While her pop savvy is clear within the diversity and progression of songs, storylines can feel redundant. Her fixation on certain specifics, while falling into a general trend for Gen Z artists to tell rather than show their audience, can make her seem unimaginative. Certain turns of phrase hit (like the intensely relatable line on "brutal", "And I'm not cool, and I'm not smart / and I can't even parallel park") while others don't (like the awkward phrasing of "Maybe I'm too emotional / but your apathy's like a wound in salt"). Nonetheless, these are all minor problems indicative of Rodrigo's relative inexperience and creative freedom, and they only slightly bog down the material.
Rodrigo seems to have made just one major misstep on "SOUR" in the unusually outward-facing closer, "hope ur ok." It focuses on LGBTQ+ friends with whom the narrator lost touch, and expresses her sympathy and pride in their bravery. While an admirable message in a very good song, it seems out of place on the introspective album. It's not well-suited to be the last track on "SOUR," but would make more sense as a single where Rodrigo partnered with The Trevor Project or GLAAD, two notable charities for the LGBTQ+ community.
In short, Rodrigo's album "SOUR" has impeccable instrumentation, fascinating musical touches, great songwriting, and cohesive structure, but struggles with occasional lyrical and structural missteps. It's uncommonly well done confessional Gen Z pop, assembling modern sounds into a shiny package for her peers.
Favorite songs: "jealousy, jealousy" for the bassline, "good 4 u" for the Paramore vibes, and "1 step forward, 3 steps back" for the narrative
Runtime: 34:41
Title: SOUR
Artist: Olivia Rodrigo
Label: Geffen
Release Date: May 21, 2021
Leave a Comment
About the Writer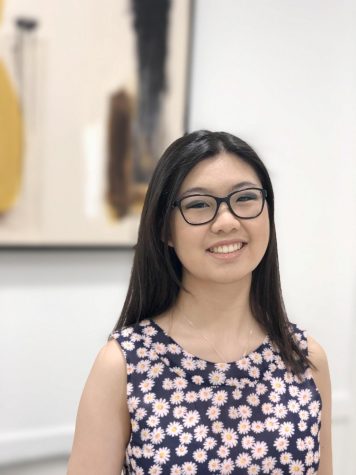 Jacqueline Chin, Reporter
Hi! My name's Jacqueline Chin and I'm a senior at Clements. I'm a competitor in academic UIL and the president of Quiz Bowl, as well as a prose reader...