A story of survival and a promise of hope
As Breast Cancer Awareness month comes to an end, it is important to recognize those affected by this life-threatening disease and remember those lost to this illness. 
For many students and staff, cancer hits close to home. Editor in Chief senior Leila Stewart talked to her grandmother, a survivor of breast cancer, about her experience and what the average person can do to support their family and friends or simply the cause itself. 
Jan Stewart was initially diagnosed with Paget's Disease, a rare form of breast cancer, in her right breast. She always considered herself healthy and thought, ""how could this happen to ME?'"
When she had the Mastectomy they told her she was stage two, but after more scans she learned the situation was more severe than initially anticipated.
"Further scans indicated I was stage 4," Stewart said. "I was diagnosed on July 13, 2011, three days after my 68th birthday." 
Her husband, Al Stewart, was there to receive the news with her. 
Afterwards, she told her family and her neighbor she walked with in the morning. 
"Janet, who had the same name as me, was diagnosed with Breast Cancer, she was doing radiation," Stewart said. "We talked, we walked, we prayed. She shared a lot of information with me, she was going through this journey, as I was just staring mine."
She says she felt encouraged by all of her family members and established new relationships along the way. Everyone came out to show their support during this difficult time and lifted her spirits. 
"I heard from folks I had not seen in ages," Stewart said. "People I didn't know sent me cards, scarves, socks, hats, books, prayers, bracelets , key chains, journals. Special gifts came from my kids and their families. Books, Cook Books, phone calls and visits."
She received twelve months of chemotherapy and was given the strongest doses from the start. 
"This stuff was so strong, they told [her husband] and Jodi [her daughter] they had to stay far away while this was given," Stewart said. "The nurse was completely covered from head to toe with gloves, a gown, headgear and a mask. Her appearance was frightening." 
Her daily life was forever changed. During chemotherapy, patients' immune systems are incredibly weak. 
"In the start of my chemotherapy I had to limit my trips to the store," she said. "I could not be around small children, coughing, sneezing, people with colds, or flu." 
She couldn't walk, could hardly cook because the smells made her nauseous, and couldn't eat much because she could taste the rust. 
"I was sick, depressed, and cried," Stewart said. "I would sit outside on my patio early in the mornings- I HAD to go outside, "cabin fever"- drink black coffee, or a smoothie. It tasted terrible at first, then I got used to it and I was able to gradually get my strength back."
In the next few months she lost all of her hair, but was able to start walking with Janet again. 
"The strength of the Chemotherapy gradually lessened," Stewart said. 
Throughout her treatment, she did meet people that could relate to her experience and share their own. She was hooked up to the machine for six to eight hours each session, and eventually she told her husband and daughter they could stay home.
She heard stories of those who were in remission and had a "recurrence of cancer in a different area" or who had a history of cancer. Stewart doesn't have a family history of it, so the experience was completely new for her. These stories provided her with hope and strength, but most importantly for her, she rooted her faith in God.  
"One lady in the waiting room was Lamenting about her "end stage cancer" and how she was feeling about her life," Stewart said. "I told her, 'whatever your faith is, use it to help you heal."
She says she tried to smile at "each and every appointment" or person she came in contact with. 
"A warm and friendly greeting with a smile, can really help lift spirits," Stewart said. "It helps to give encouragement to each other, cause you kinda feel like it's never ending. This was the longest year of my life." 
For those who need support or would like to, she says that there are cancer support groups for both patients and loved ones and cancer walks and other charities that give back to patients and research. 
"Be patient with someone who has lost a loved one," Stewart said. "They need to speak with other folks who have had similar family situations. It's not easy for families of young children and it's a very sad moment to live through.
To support patients themselves, they can  "visit a person who has cancer and needs a little encouragement, especially if they are alone." Take them out to lunch, church, or a movie. 
"Often take them for an outing when they are up to it or its OK for them to be out and about," Stewart said. "Offer rides to Doctor appointments, or treatments and just sit there and keep them company."
Stewart says that it's okay if patients in treatment request for their alone time or are too tired to talk or listen. Some are "in constant pain, but don't always want to complain." 
"Ask 'How are you feeling today?'" Stewart said. "What treatments are you currently? Is there anything I can get you?  Have you eaten today? Do you need anything from the store?"  
It's the little things like these that can truly make an impact in their life. 
"I feel it's important to keep hope alive, and keep the fundraising efforts going," Stewart said. 
Leave a Comment
About the Contributor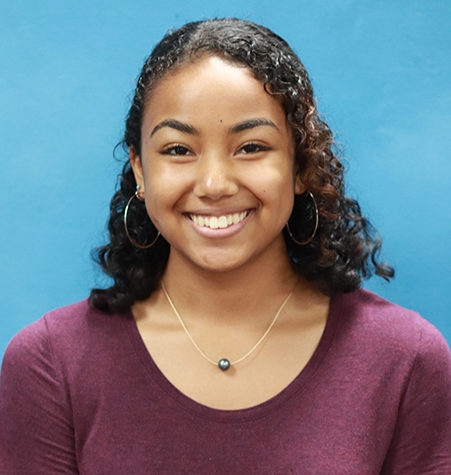 Leila Stewart, Co-editor in Chief
My name is Leila Stewart and I am a junior. I coach elementary girls volleyball, I'm the Vice President of ASA, and the co-editor of the Roundup. This...