Retrospective 2019
Friday, May 3, the National Art Honor Society, with the aid of art teachers, Kelly Chen and Holly Gotula, hosted Retrospective, an event devoted to the artwork of Clements students.
The event commenced at 7 p.m., with the arrival of parents and students, eventually filling up the first floor of the school. During Retrospective, art students had a chance to display their works throughout the year.
"I think Retrospective is also a really good event for the art students because it's our big chance to grab attention from the school and community and gain recognition for our hard work," Jennifer Guo, president of the NAHS, said.
Prior to the event, the artists began setting up their boards around the first floor of the building, with commons mostly reserved for the AP art students.
"The students start preparing months in advance for Retrospective.  They acquire and decorate their retrospective boards, mat their work and display it in a creative way," Gotula said.
According to Gotula, students were excited to display their works. And while that may also be true, others have expressed their anxiousness surrounding the year-end art show.
"I really don't know what people will think of my art, so I'm curious to find out," freshman Grace Dehner said. "It has been a difficult, yet rewarding experience putting together this giant display of all my art."
Because the event precedes AP Examination weeks, it has been difficult to tackle both studying and art to some.
"It's also been super stressful, especially since I've been kind of behind with all my projects, combined with all the APs coming up," junior Adeline Cheung said. "It's very time consuming for both, but I think it really pays off once we reach Retro, because you get to finally see everything you've done throughout the year."
While all art students were expected to participate in Retrospective, NAHS members and officers handled most of the preparation in decorating and ensuring that everything before and during the show would run smoothly.
"Retrospective prep work was pretty smooth and easygoing," student Sharon Lin, Chairman of Activities, said. "Things were planned in advance and even finished early."
To Student Jennifer Guo, who also designed this year's shirts, it was a learning experience for her as a leader.
"Since the sponsor, [Chen], was on maternity leave, I had to work with the rest of the officer team and especially my good friend and secretary Nerissa Geng to keep the club activities organized and to make sure the art students were using the art room and materials responsibility," Guo said.
Individual students were also awarded in categories like "Best Display", with respect to the current art course they are taking. Although not everyone could receive an award, Chen and Gotula recognize everyone's efforts in preparation for Retrospective.
"I am extremely pleased with the work that the students have created this year.  The dedication that the students have in our program is quite evident as you walk around and view their work," Gotula said.  "Our students should be quite proud of themselves. I know Mrs. Chen and I are very proud of them."
About the Writer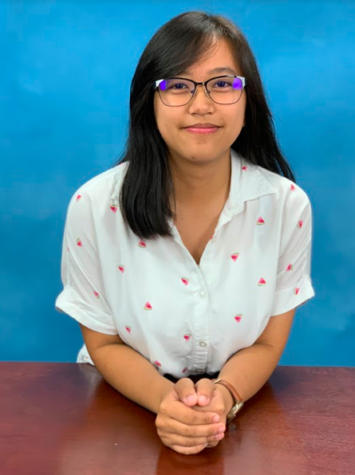 Laurenz Quinto, Reporter
My name is Laurenz Quinto and I am a senior at Clements High School. I am involved in several clubs, in addition to being an officer for Creative Writing...