A Star Is Born Review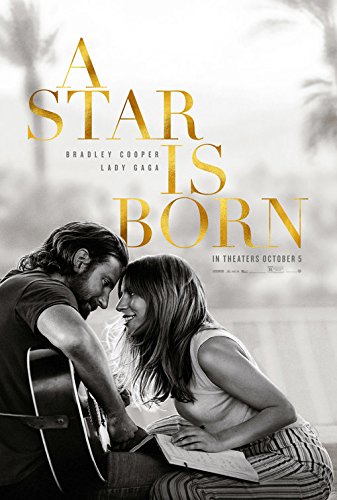 4.5/5
In the 21st Century, there are many films that are redone due to popularity. With new technology, films that once had cheesy visual effects, such as Total Recall, are remade and released with the intention of improving the franchise. Other movies that were recently remade include The Jungle Book, Beauty and the Beast, The Magnificent Seven, King Kong, and A Star is Born.
A Star Is Born was originally made in 1937, starring Janet Gaynor as an actress who meets an older actor, Fredric March, who helps bring her to fame by starring movies together. The first remake of the film was released in 1954 as a musical starring Judy Garland and James Mason. Its popularity contributed to the remake in 1976 which starred Barbra Streisand and Kris Kristofferson. The 1976 version of A Star Is Born shared a similar story to the previous films about a young talent who meets a successful star, who takes the young and inexperienced under their wing and metamorphosizes them into a star. After such widespread attention, the 1976 film was remade in 2018.
Directed by, written by, and starring Bradley Cooper, A Star Is Born was very highly anticipated to be a huge hit and top box office film. The film made a worldwide total of nearly $300 million dollars at the box office. With its original soundtrack performed by the cast, there are certain times in the film where one may even feel as though they are at a concert.
A Star Is Born tells the story of Ally, a part time bar singer and waitress, who meets Jackson Maine, a globally known and successful country singer, when he comes to the bar for a drink. Jackson Maine's instantaneous awe for Ally and her voice creates a fun spirited night in which he invites her on his tour. Ally accepts and joins him and as her popularity and fame grows, Jackson's drug abuse and alcoholism slowly begins affecting everyone. As they continue to perform together, their love for one another grows and thus their adventure begins.
Both Bradley Cooper and Lady Gaga's acting is notable, as well as the performances by Sam Elliot and Dave Chappelle. In my opinion, the film's soundtrack is worthy of being a strong contester for the Academy Award for Best Original Score, with Lady Gaga's mesmerizing voice and Bradley Cooper's surprisingly majestic singing talent. The movie is filmed very stylistically with close-up shots of the actors. The screenplay, also written by Bradley Cooper, really goes into each character's personality and life. The audience is glued to their seats till the end of the movie, just as I was. When the movie is over, audience members will either leave the theater clapping or in tears.
The movie truly highlights the difficulties that fame can cause and the hardships that motivate singers to write and perform their music. Bradley Cooper as director, writer, and actor, outdid himself compared to his other roles. This 2018 remake may very well be the best A Star Is Born to be created.