Making a U-turn on the road of life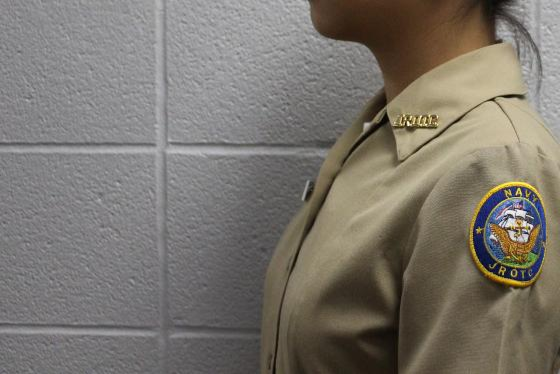 Kun Hong, Features Editor
September 14, 2016
Most would agree that life is like a road for traveling on. It goes one direction toward a definite ending point. There is no way going back once departed on the journey. Of course there is no way to rewind time or reverse actions done in the past. But if life isn't going as planned, what could possibly go wrong with taking a U-turn and picking up some roadside views previously missed? Will people judge? Or have something to say about the action?
During my last year of high school, I had to make this decision and test it out — by joining a freshman class.   I signed up for NJROTC before the summer. It is a military sponsored program filled with tough and determined students and something I wanted to join a long time ago but couldn't. The majority of the students begin it in their freshman year. Seniors on the other hand, are usually too tired to care about trying a new elective. However, that wasn't me. My interest in ROTC did not wear off during the past three years. So I thought, why not join now? And that is the short story of how I became the only senior sitting in a class full of underclassmen who are dressed with more ribbons and brooches than me, and some of whom I have to address with "Sir," "Chief," and "Officer."
Initially I did worry about other people and how they would react when they found me in my uniform, and how funny it would be to listen to commands from people who supposedly are younger and inexperienced than me. Fortunately the fellow cadets in my platoon have all treated me with patience. Training was hard, I was slow and behind all the underclassmen. But it isn't because of the fact that I am a senior. It is because I am a newbie. My ROTC encounters during the first month of school made me realize something. The weird feeling I had about upperclassman being in a underclassmen class was only a judgement I had in my mind. My friends and teachers were surprised when they saw me in my uniform, but nothing happened after that. Taking a U-turn in life did not result in a disaster like I imagined it would be.
The first few years of high school were not entirely an experience I enjoyed. I wasn't in charge of where I went and what I did. It was like someone else was driving my car on the road of my life. And the worst thing is, I did not like where the car was heading. It wasn't exactly a life-threatening situation — my car wasn't about to fall off a cliff. However, it was going on a rocky road that I had no intention of driving on. The solution to that was simple. I had two choices: either do nothing and continue to be unhappy, or be brave and take over the steering wheel. Luckily, I went with the second option and succeeded.
Making the decision to join ROTC as a senior, in fact, was not scary at all — Just like any time we feel the need of going back and picking up something we've always wanted to do. Maybe it is learning a new instrument, or making up something you failed at the first attempt or actually taking a U-turn when you missed the left turn. Sure, there are other ways to get to the destination, but they might be longer and more unpleasant, if the one chosen doesn't help to take charge of the wheel and make a U-turn.