All Great Things Must Come to an End
As the stage light streaks upon the auditorium stage, it dawns on a performance that will be a significant moment for all choir students. Being the result of the work and organization of the entire choir department, the 2023 spring show served as a grand sendoff for head choir director Janet Menzie, serving as both an end of an "era," and the beginning of one to come.
With her seven years as head choir director, Janet has remained a cornerstone of the department. Her influence still remains with her alumni, as they regard her as an inspiration and an immense impact on their lives, which culminated on the twentieth, her final day directing the CHS choir.
"She always loved doing what was in the best interest of kids, being a builder of bridges, someone who thinks big picture, a compromiser, and somebody that has their heart for the kids first," assistant choir director Ryan Bogner said. "Personally, she is like a mother and a mentor, and loves everyone whether she says it or not, you know it from day one."
Her experience, in combination with her effective teaching environment, led to the most successful years of her career, during the 2019-2020 year.
"I mean we've had some great experiences, but without a doubt it was the 2019-2020 year because we received four big invitations, and one of them was the state convention (Texas Music Educators Association State Convention)," Janet said. 
Through her time teaching, Ms. Menzie has been able to transform the self-limiting beliefs of her students into courage, and not to feel afraid to make mistakes, all of which has led to consistent successful performances in countless UIL contests and concerts.
"What I have learned from Ms. Menzie is to just try. I am a shy person when it comes to singing but Ms. Menzie taught me that I should always try, no matter what," junior Serenity Maldonado said. "It helped me audition and get into more things." 
Despite Ms. Menzies's departure, the standard that she had set for the choir department and the community will last forever.
"Obviously, it is sad because she is the Ying to my Yang, and she's breaking up the band, but the future is always uncertain," Bogner said. "The students have built a tradition of things that they love and that they expect, and those sorts of things will continue, and the relationship building will continue because the students here have that sort of heart."
Leave a Comment
About the Writer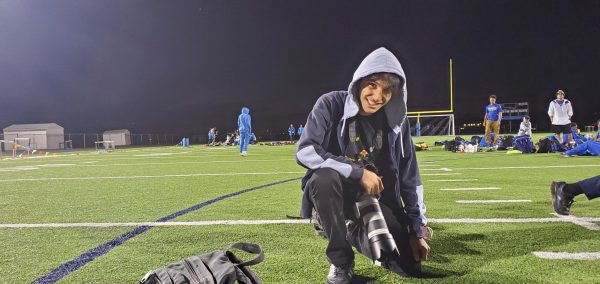 Julian Barkouda, Reporter
My name is Julian Barkouda, and I'm a junior here at CHS. I enjoy biking and running, and my goal for this year is to take more pictures at sports events.