2023 Band and Guard Banquet
The annual Band and Guard Banquet was held on Friday, April 28 at Sugar Creek Country Club.
 The directors, students, parents, and booster club members all attended. It is always planned way in advance to ensure that the final celebration of the year is a memorable one. 
"I was looking forward to a last final hurrah with my friends," senior Harry Li said.
Once everyone arrived and was seated, the food was brought to everyone's tables. The main courses to choose from were lemon-butter chicken and grilled parmesan chicken. 
"Thou balmy section of harvested chicken… so elegantly presented and drizzled in thy most luxurious sauce," senior Ahmet Candir said. "So moist, delicate; Thoust has savored thy complex and layered flavor and had the jubilation of appreciating it amongst thy fellow companions."
After the majority were done eating their dinner, the leading presentation began. Each director spoke of accomplishments from over the course of the year and recognized the students that they felt made huge impacts on the program. New members of the booster club board were announced and then the senior recognition started. Every senior was called up to the stage and had a giant group photo taken of all of them. 
"I liked how they took the time to recognize all the work that we seniors did," senior Varun Venkataraman said.
Following the dinner and presentation, everyone was served cake and had their photos taken in a 360° photo booth. 
"I had a lot of fun," freshman Annika Lorine said. "It was a great night, and it was cool to spend time with my friends in a formal setting."
Leave a Comment
About the Writer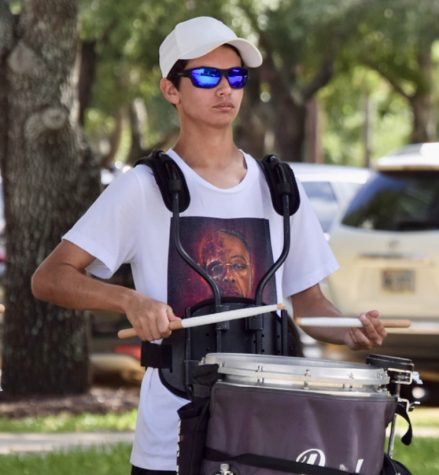 Jonathan Lorine, Reporter
Hi, I'm Jonathan Lorine. I am in 12th grade, a member of broadcast journalism, and the CHS drumline. I enjoy taking photos, playing my instrument, and...