"Heartbeat": Celebrating National School Library Month
Sometimes even before the sun shows itself, when voices are still hushed in the early morning quiet, open doors welcome students to a quiet space.
It's a peaceful table to study at and a lunchtime hangout; a refuge for reading and a busy maker space, offering endless discovery for those who take the time. 
In celebration of these many vital roles, National School Library Month takes place every April, featuring School Librarian Day on April 4 and National Library Week from April 23 to 29.
"The library should be the heartbeat of the school," Librarian Marion Brennan said. "By heartbeat, it should be active, it should always be being used for whatever our community needs." 
The library hosts a number of events throughout the year, from arts and crafts to recipe trading, as well as an ongoing library advisory board. Brennan also posts various student polls and activities in Schoology for students to participate in virtually.
"We're doing a combination of Women's History Month, poetry from around the world, and we're also celebrating Earth Day, so it's been a busy month," Brennan said. "We'[ve] also been in Schoology – first line and last line of famous novels to celebrate books."
The library will also host Bookapalooza on March 29, featuring cosplay, gaming, a quiz bowl, and a book fair, as well as author talks and panels. For even avid readers, however, the value of the library goes even further than its books. 
"I can't imagine a public school, at least, without a library because it's such a vital resource for students, not only for the books but also as a place where you can come to destress and socialize with friends," sophomore Truc Huynh said. 
Huynh visits the library every day, sometimes even volunteering after school. Huynh says she enjoys the many resources offered by the library, including the DIY workshop and podcast closet. Many more can be found online, such as the library's digital database. 
"I still believe libraries play an essential role in providing resources, especially for communities that don't have resources, and a range of activities for students that might not get the opportunities," Brennan said. 
And so for this morning, and the next, and the one after that, the library's doors remain wide open to all.
Leave a Comment
About the Contributor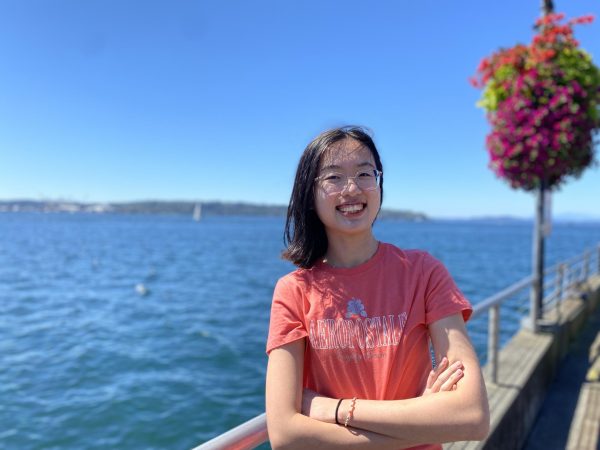 Karen Wei, Copy Editor
Hi! My name is Karen. I'm a junior and this is my third year on the RoundUp. I love reading and writing; some of my favorite books are "The Moment...