Bush High School NJROTC Drill Competition
The Clements NJROTC (Naval Junior Reserve Officer Training Corps) competed in a drill competition at Bush High School in early November. 
NJROTC is an elective course that has many leadership opportunities in it. The program is student-led, which means that most senior members are in charge of the whole unit and delegate responsibilities. The Clements NJROTC participates in not only drill meets, but also academic competitions and many volunteering events to help the community. People who are in the program seem to enjoy it for the amount of time spent perfecting their craft that they do such as competing. 
"So, when I was in Middle school JROTC actually came to visit, they performed for us at Fort Settlement Middle school," Cadet Lieutenant Tai Singh said. "So, I was very interested in what they were doing." 
The Clements Rangers NJROTC competed against four other schools for district qualifiers. Their teams are composed of academics, PT, color guard, unarmed drill, and armed drill. These students have practiced every week on Tuesdays, Wednesdays, and Thursdays after school. They also offer practice before school opens from summer break for those interested in seeing what it is all about.
"So, they have a thing right before summer ends, like it's for people who are in the teams to come back and get some practice, so they aren't so rusty anymore, and for anyone who is new, who wants to learn it ahead of time." Assistant Supply Officer Houston Jones said.
The Academic team consists of a test that has multiple subjects in it as well. The PT team, also known as physical training, does push-ups and sit-ups to a cadence, as well as a baton relay afterward. The drill teams consist of armed and unarmed teams performing in the regulation and exhibition formats. Regulation drill requires following a strict routine and set of movements, while in the exhibition, the units can make their own routine with great liberty on the moves allowed.
"It's fun being a part of the armed drill team, and I am confident we will win this," Petty Officer Brandon Wong said.
Overall, they won 1st place in District Finals and are going to Nimitz High School to compete in Area.
Click here for all images
Leave a Comment
About the Contributor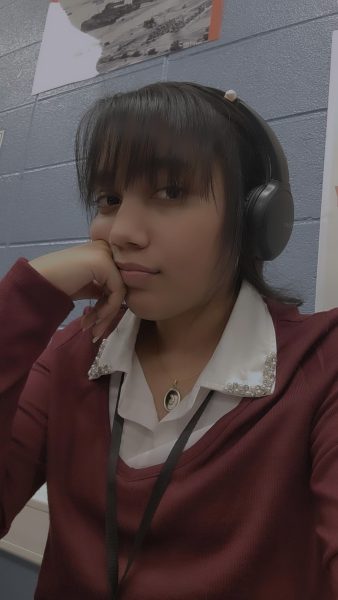 Stacy Saucedo, Reporter
Hello my name is Stacy M. Saucedo, I am a Junior! This will be my 3rd year overall being in Journalism, but my 2nd year in CHS Round up! I am so excited...