To the Limits of Our World
The importance of language, from its teachers.
Shape.
Sound.
Gesture.
All strung together, these tools become stories.
All strung together, these tools are the way in which we live and love and become our history.
Together, these tools become our identity and unite us. 
The power to string these tools together is held in the hands of people from walks of life that have converged in the incredible process of learning and imparting stories, history, and identity; in the process of creating the tapestry of language. 
Of the seven world languages offered, students are required to spend two years learning a world language of their choice, studying grammar, practicing conversation, discovering culture, and as Spanish teacher Carmen Acevedo puts it, gaining another soul. 
"
When you learn another language, it is like you have another soul because you begin to change yourself and you can see other perspectives of life.
— Advanced Spanish teacher Fior Acevedo
Sra. Acevedo was born in the Dominican Republic, to a life that she says was very different than that in the United States. 
"I was centered in my family and the members of my community," Sra. Acevedo recalls. "I went to the same school from elementary to high school, and my high school friends and still my friends, and we talk and keep in contact."
Sra. Acevedo decided to move to the United States after coming to New York for a student exchange, a decision she says was both significant and difficult.
"I understood that I had the opportunity to grow more in this country, professionally, economically, but also intellectually, which is what has interested me more," Sra. Acevedo explains. 
Sra. Acevedo recalls having to work part-time in many places after the exchange program at the University of Columbia ended. As a student of international law, Sra. Acevedo had her own business for many years but began teaching to care for her children.
"I started for that, but nevertheless, I fell in love with teaching," Sra. Acevedo says. "I have a lot of passion for my culture, my language, and all, so it was not difficult for me to get used to; on the contrary, I really like teaching."
For German teacher Lauren Davis, taking part in the German American Partnership Program and traveling to Germany as a junior in high school was similarly "transformative". 
"
We live in a bubble. Then to get outside that bubble and see others' ways to live and do things was amazing.
— German teacher Lauren Davis
As a university student, Ms. Davis participated in the German American Academic Exchange at Northwestern University and spent a full year at a German university in Tübingen, where she says her language took the biggest leap. 
"We weren't attending lectures with other American students or anything like that," Ms. Davis remembers. "We were enrolled in German university courses and that – it was terrifying and amazing."
Language is something that Ms. Davis says "opens doors". As a two-time alum of the exchange program, Ms. Davis was invited to meet with the trans-Atlantic coordinator from the German government. Ms. Davis says that she hopes that these experiences bring a fresh and relevant perspective to her teaching. 
"It's so hard to let German come to life because we're so far removed from it and in some capacities, German suffers a bit of a PR problem in the American mindset," Ms. Davis explains. "It has a reputation of pretzels and lederhosen and Oktoberfest and oompah music and polka dancing, but I try to refresh that a little."
Ms. Davis uses music in the classroom, which she says is a great access point for German culture. Advanced German students also watch a news program produced for young people in Germany.
"I would say that German class is really beneficial because there's a small class, especially as you go up the levels, so you get a lot more hands-on knowledge," junior Ruhi Kelkar, a pre-AP German III student, says. "You don't just learn about grammar; you also learn about communicating with other people and about German culture."
Advanced Spanish students also enjoy the music and videos Sra. Acevedo incorporates into each unit. 
"It's really fun," AP Spanish IV student Katherine Liu describes. "It makes class really chill and not a lot of stress at all."
Sra. Acevedo explains that using songs as well as traveling with students is how she exposes students to authentic language and brings the classroom to life, with the hope that students can share their love for their language and culture.
"The best part of my job is the satisfaction of seeing my students really wanting to continue learning and how they exert themselves in doing their work, not just for the grade, but really to learn," Sra. Acevedo says. "I feel proud of my students and my job. I feel happy, really, to see the kids assimilate the language and the culture."
Culture, including listening to songs and learning about traditional festivals, is a reason why sophomore Selina Lam takes Chinese I, in addition to solidifying her skills as a native speaker.
"I think Ms. Li makes it pretty interesting," Lam says. "She tries to make it as engaging as possible – she's always speaking to us in Chinese and making jokes and makes the environment very lively."
Chinese I teacher Yan Li introduces her students to Chinese culture through music, as well as the basics of writing and speaking the language. Ms. Li also teaches Algebra II, where she brings her experience working as a software engineer in Singapore to the classroom. 
"Back to that time, in early 1970s, I would really say we don't have much things, psychology-wise or material-wise," Ms. Li recalls her childhood.
Ms. Li was brought up by her grandmother in Zhejiang, China, but moved to Xi'an after elementary school. Later, to pursue her Ph.D. in research in flight control, Ms. Li moved to Singapore, where she remembers experiencing a culture shock. 
"That actually coming from how nice, how good all the public facilities are," Ms. Li explains. "You get to access a lot of things you never accessed."
In 2003, Ms. Li moved to Pennsylvania. Language, she says, is very important to her; knowing English helped her land a teaching position in America. 
"I contribute that to when I was in school, and I spent a lot of time learning English language," Ms. Li says. 
Ms. Li taught mathematics for ten years before beginning to teach Chinese I. For her struggling students, Ms. Li emphasizes that "one subject is one subject".
"
The grades you got in your middle school, high school, even later, it just can judge your ability of specific subjects and specific chapters and specific lessons. It does not judge you as a whole person.
— Chinese I and Algebra II teacher Yan Li
While each year brings a different group of students to either Chinese I or algebra II, Ms. Davis teaches all four German levels.
"I get the privilege of having my students year after year, being the only German teacher, so I can have someone come in as a freshman and watch them graduate," Ms. Davis says. "To see them become more who they are is cool."
Seeing students grow and improve is something that Spanish teacher Kelliann Flores says gives her joy. Ms. Flores began teaching as a child in the summers in Cozumel, Mexico, putting on schools for the kids on her street, but she says no single experience led her to become a teacher.
"My life was not a straight line," Ms. Flores laughs.
Ms. Flores studied to become a laboratory technician and started college in the United States for computer programming. But, after moving, Ms. Flores earned her undergraduate degree in library science and master's degree in social and health psychology, then decided to continue in Spanish and taught enrichment classes at a public school. 
"Afterward, I was in El Paso for one year," Ms. Flores adds. "I continued studying."
 Ms. Flores finished her Master of Philosophy in Hispanic languages and literature, also at Stony Brook University, then began teaching Spanish in 2003. Sophomore Elliana Crews, who took Spanish II with Ms. Flores last year, says that Ms. Flores helped Spanish "click" for her.
"She's really nice and will help you get your grades back up if you take the initiative to go talk to her," Crews says. "She very much vocalizes very well on how she teaches Spanish."
Ms. Flores says that the best part of her job is the students, describing the moment when understanding comes to a student's eyes. American Sign Language teacher Margie Campbell calls these 'aha' moments "exciting".
"The best part of my job teaching here at Clements is the kids," Mrs. Campbell says.
"
For those students that truly find passion in learning about sign language, that makes me excited.
— American Sign Language teacher Margie Campbell
Born in Edinburg, a town in the Rio Grande Valley of South Texas, Mrs. Campbell recalls a conference hosted by the city when she was in fifth grade. 
"I don't really remember what the conference was about other than we had some guests from Corpus Christi and they had two deaf children," Mrs. Campbell remembers. "I was pretty excited about meeting them and learning American Sign Language or learning their language, and that was the first time I really got introduced to ASL."
Mrs. Campbell introduces her students to ASL by exploring the misconceptions that exist about Deaf culture and then teaching the things that the deaf community does differently from the hearing community.
"Trying to get deaf people's attention, like what would you do, what should you do if you're in a certain situation with deaf people," Mrs. Campbell explained.
As an ASL teacher who is not deaf herself, Mrs. Campbell says that she feels the best way to show students about deafness is through authentic material, like video clips. ASL II student Alexandra Lee says that she has learned a lot through the interactive assignments in the class.
"There's a lot of things about deaf history that I probably never would have learned about if I hadn't taken the class," Lee says.
Language, Mrs. Campbell states, connects people.
"It's a way for people to come together and share culture and share ideas," Mrs. Campbell elaborates.
For Ms. Flores, language's role as a connector is one that builds bridges across the differences in people to connect them in friendship.
"
What is important is that we are all in the world together, and we need to help one another, from one to the rest. We need language to connect with the rest.
— Spanish II and III teacher Kelliann Flores
Through gestures.
Through shape and sound.
Through language. 
Note: Quotes from Ms. Flores and Sra. Acevedo were translated from Spanish.
Leave a Comment
About the Contributor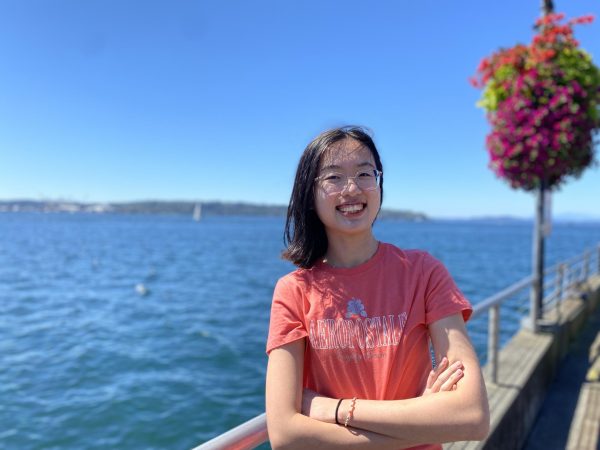 Karen Wei, Copy Editor
Hi! My name is Karen. I'm a junior and this is my third year on the RoundUp. I love reading and writing; some of my favorite books are "The Moment...