The Freshman Band Experience
It's your first time on the field, and as you stand in your position ready, you internally rehearse your exact movements, nervous about a potential mistake. However, all of the practice you have done was not all for nothing, and as the clock draws ever closer to showtime you realize that feeling that way will not help. As you see your conductor counting off, you take a deep breath, knowing you are ready for what is to come. 
This year is one of many firsts for the freshman here at Clements High School, especially those in the band program. Marching band is a completely different animal in comparison to middle school, as students must manage their time effectively, be available for practice, and must deal with the flaming Texas heat. However, to these freshmen, the marching band brings a lot of new opportunities, as they are now part of a close-knit community, become better musicians, and strengthen their abilities as a student. 
"Band was something that I've always enjoyed doing, as it's very fun and I enjoy making music with my trumpet, it's just really cool and is something that I enjoy doing every day," freshman Vitaliy Asheulov said.
For many of the freshman marchers, what made them want to continue their stay in marching band stems from the sense of community the band creates. It gives the ability to build connections, opportunities to branch out, and an opportunity to continue playing your instrument at a higher level.
"So, I really enjoyed middle school band and I felt like it provided me a good environment in school, and I felt like it gave me a lot of friends and people to talk to, as well as connections," freshman Pierson Guidry said." I thought that marching band would help me, knowing the upper-classman, and it has, also I think what also drove me was to continue playing, as well as the community it creates."
When it comes down to what people see as the most fun thing they see for their experience in band, it typically varies, however, most believe that going to contests, furthering their music passion, football games, and the friends made along the way truly are their favorite parts of being in the marching band.
"I think the football games are the most fun I've had so far in marching band… since I did lose my voice because of the last one," freshman Natalie Ferguson said.
Finally, many eighth graders in the band seem to believe that it's not worth taking band due to the extra time commitment, yet they fail to realize the possible opportunities they could be losing out on by not joining this community.
"I think kids in middle school are like, 'I don't want to do band because everyone complains about how much time it takes or how hot it is'," senior Samuel Guirguis said. "What they don't know is that all that effort they put in is really worth it and you make memories you wouldn't make elsewhere."
Leave a Comment
About the Writer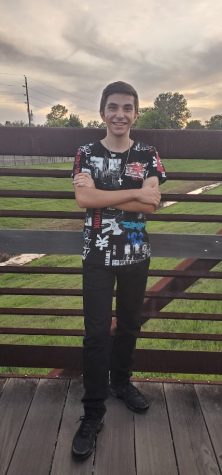 Julian Barkouda, Reporter
Hi everyone! My name is Julian Barkouda, I am a sophomore at Clements High School and my second year here. I was raised right here in Sugarland for all...