Take it Tu-Go
The number 7 is a lucky number for the majority of people. For some, it's because there are seven days in a week or because their favorite Disney movie is Snow White and the Seven Dwarfs. But for this food truck, 7 is the number of years since its establishment.
Established in 2015 and founded by Jennie Tu, Tu-Go Kitchen is a food truck that brings quality Asian cuisine to the streets of Sugar Land, Houston, and many more areas. For quick bites, there are appetizers such as eggrolls, dumplings, and edamame. To make your dumplings or eggrolls even more delicious, there is duck sauce (for eggrolls), homemade dumpling sauce, or soy sauce. Tu-Go's entrees include General Tso's Chicken, Kung Pao Chicken, Sesame Chicken, Teriyaki Chicken, Beef-N-Broccoli, Tofu & Vegetables, and Fried Rice with chicken, shrimp, or vegetables. Additionally, you can also adjust the spice level in your entries either by asking or adding Siracha. Tu-Go has bottled water, sodas (Coke, Diet Coke, and Sprite), Powerade, and homemade Peach Mango smoothie.
When the pandemic started, Tu-Go Kitchen had to take a pause. However, they are easing back and starting to pop up in many local events.
"It's been good now that we've been able to start it and keep it going even through COVID," Tu said. "It's also challenging sometimes, but at the end of every day it is very rewarding to see my business thriving."
Tu-Go Kitchen offers catering for private and/or public events.
"We offer more than what's on the menu," Tu said. "We can cater depending on the customer's budget, taste, or event."
The main goal/ thought for Tu-Go was to share their love of food with everyone.
"Ideally I would like our food to be seen on the shelves of the grocery stores, that would be ideal, but I don't know if that will actually happen," Tu said. "That's kind of what I wanted to do or what my thought was."
Tu-Go Kitchen allows people to taste Asian cuisine to-go and brings people together with food.
Leave a Comment
About the Contributor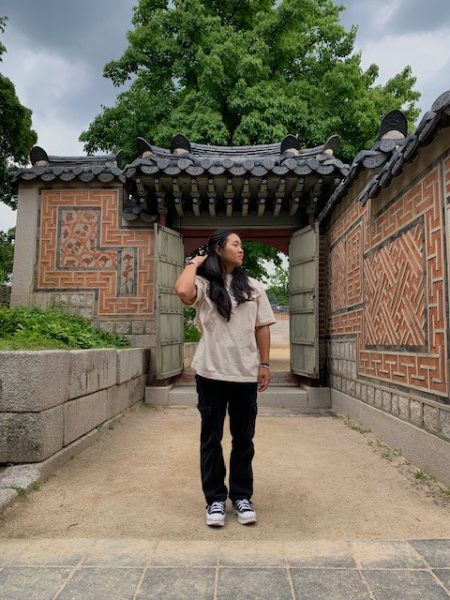 Katelyn Lam, Editor-In-Chief
Hi, my name is Katelyn Lam and I'm a senior. This is my 4th year in journalism news and my 3rd year in the RoundUp. I'm on the varsity girls' golf team...