Is the Spring Season the Better Season?
Most Texas high schools spend much of their school spirit efforts on fall sports, especially football. This is mainly due to the multiple other extracurriculars that attend and participate in every game. And, of course, one can't forget the notoriety of the tradition of the homecoming football game, where the court is announced and alumni are invited to come and relive their high school memories. But at Clements High School, most of the sports that do well are actually played in the spring.
But because most spirit is allocated for this sport, as well as other fall sports, winter and spring sports are often forgotten and receive little to no recognition for their hard work and/or achievements. These athletes spend just as much time throughout the off-season and during the game season as fall athletes do, but their experiences are different because of the difference in placement throughout the school year, both at Clements and at other schools.
While there aren't any official winter sports under UIL, many "spring" sports begin their seasons in the late fall or during the winter and continue during much of the duration of the spring semester, making their seasons longer than even many fall sports, while these sports get no spirit days, hardly any pep rallies, and almost no turnout at their games and matches, while they more than often break records and qualify for later rounds.
"The swim season starts in September and ends in the end of February," said Senior Swimmer Zeha Ahmed. Their season begins with most of the fall sports but is categorized as a spring sport because of its end dates. Due to having such an early practice though, swimmers often exert much of their energy before their peers and have to push themselves to be able to make it through the day.
While swimmers have their practices in the early morning, most of the other sports, both during the fall and spring have their practices towards the end of the day, but they are not alone in their beginning in the fall.
"[Basketball] season started in November and ends February 8th," Said Senior Basketball Team Captain Jenna Ferguson. This sport is another that begins at the end of the fall semester and spring and even ends before the calendar season of spring, in opposition to a sport such as baseball that begins just as the basketball season is ending, even though they're both classified as spring sports.
These athletes are often expected to keep up or even improve their physical health outside of normal and frequent practices both before their season as well as during it, many of whom are expected to get stronger and work their schedules around these requirements, though the activities in each season's practices may differ. "Our off-season workouts would be a lot of drills and skill work," Ferguson said, "during the season, we work on plays, and watch film and we practice based on film."
Soccer season begins late January with some out-of-district games being earlier, even over winter break, often forcing athletes to be present during a time when they're supposed to be allowed to travel or rest. Many of these athletes can also have games that may conflict with schoolwork and aren't often offered the same graces that fall athletes are, as the school is aware there is not as much support or turnout for these games and is less willing to make a pass just for the team's athletes. Oftentimes they even have to choose between getting sleep or finishing assignments due to exhaustion from the physical activity of their games and practices.
"I sometimes have to make compromises with myself and prioritize certain assignments," Junior Softball Player Maddox Darnell said, "I've still been able to take AP and pre-AP classes with sports, it's just more difficult." UIL athletes are also required to be passing all their classes to be eligible to play throughout the season, and must continually be passing during progress reports to maintain their eligibility. This requirement can even help student-athletes improve their work ethic to be able to keep up with due dates.
There are even classes that some athletes aren't given the chance to take due to limited practice and class schedules, or that force them to work around and divide their time between the two. Some classes or teachers also require due dates that give these athletes less time to work on certain assignments due to game and tournament dates, especially when athletes are forced to miss school for them, and many often need extensions, an accommodation that is not too often offered or given, so that they are able to keep their stress low and their mental health stable.
"There's sometimes when you come from a game and you're exhausted, and you have to pick between staying up to do your work and getting sleep," Ferguson said, "I've definitely had to work around and try to do work at different times."
Though many athletes are able to balance their sport and their schoolwork, some lean towards prioritizing their sport and take classes that may require more time commitment than they're able to offer with late night games during the fall semester so that they aren't forced to overwork themselves and can avoid burnout. "Some people on the [baseball] team tend to take their harder classes in the fall semester instead of the spring semester just so they can focus on baseball more," Junior Griffin Culver said. 
"During the season, my mental health is pretty good and bad at the same time," Sophomore Golf Player Katelyn Lam said, "Just bad because of school stress, but good most of the time because I'm with my friends, my team, and my coach." Many athletes' stress attempting to do so many things takes a toll on their mental health, especially student-athletes that also work jobs, considering how much they have to manage their time. 
Though there is often a lot for these athletes to have to juggle with their many responsibilities, many of them choose to stay in their sports for the team aspect of it.
"My mental health definitely improves." Senior Track Team Member Will Alvarez said. "The physical aspect behind track definitely helps with that because it makes me feel like I'm working on myself as a person, and bettering myself physically and pushing myself mentally." These athletes improve their respect for themselves as well as one another through their sport and are given the chance to have a family outside of home–new people to look up to and friends to keep them motivated and positive.
High school tennis is both a fall and spring sport as it is split into teams in the first semester and individuals in the second. Their practices continue year-round and the athletes are essentially always playing, while other sports are given the chance to have more conditioning-focused, less fast-paced practices during their offseason, but the constant, year-long interaction with the other members of the team offers up the opportunity to really connect with each other. "There's something about having a community that is something you can look forward to," Team Captain Dixie Feng said.
View Comments (3)
About the Contributor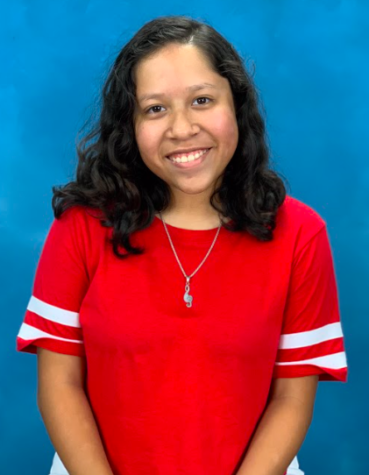 Ciara Sanchez, Reporter
Hi! I'm Ciara Sanchez and this is my senior year at Clements. I'm in the band, NEHS, and NHS, and I'm the secretary for Mental Health Club. This is my...