Chinatown's Hidden Treasures
Chinatown's Hidden Treasures
Finding a restaurant with Asian-based cuisines is easy to find in Sugarland, but how many of those restaurants show you the true, rich, and authentic culture of Asia? Before popular Asian restaurants took over, where did people go to get a delicious Asian meal?  Where could you find these restaurants?
Houston's Chinatown has a deep history, starting with the first business opening in the new Houston Chinatown in 1983. Between 1986 and 1987, Diho Supermarket in Diho Square was built, followed by Dynasty Plaza. The new Chinatown started to grow in the 1990s when Houston-area Asian Americans moved their businesses out of "Old Chinatown". As the years went on, the presence of various ethnic groups began establishing themselves in Chinatown and is now considered "Asia Town" by Christy Chang, a tour operator who operated tours into Chinatown. Today, Chinatown is filled with Chinese and other Asian restaurants, shops, and grocery stores. There are many hidden spots all over Houston's Chinatown that few people know about. 
#1 Rice to Meet You (9888 Bellaire Blvd #138, Houston, TX 77036)
Rice to Meet You offers delicious tasting Chinese cuisine specialized in authentic clay pot cooking. Their convenient locations and affordable prices make it easy for dine-in or takeout orders, and it is also known for its wide variety of tastes and high-quality ingredients used in its dishes. Rice to Meet You's most popular dish is their clay pot rice that comes in a wide range of add-ons such as beef, chicken, mushroom, ribs, pork, and so much more. Not only do they sell clay pot rice and rice platters, but Rice to Meet You also offers several types of teas such as fruit tea, milk tea, fresh and organic milk tea, and classic tea. This hidden spot has a nice and welcoming atmosphere, and also gives you the taste of authentic Chinese cuisine. (Click here for the Rice To Meet You link)
#2 Star Snow Ice & Teriyaki (9889 Bellaire Blvd, Houston, TX 77036)
Star Snow Ice & Teriyaki is a cornerstone in Houston's Chinatown community and has been recognized for its outstanding Chinese cuisine, amazing service, and friendly staff. They are mostly known for their modern interpretation of classic dishes and the use of high-quality fresh ingredients. Star Ice has many popular food items that customers always crave such as Spicy Chicken Nuggets, Fried Porkchop Rice, Beef Noodle Soup, and Chicken Teriyaki. Their popular beverages include Milk Tea, Strawberry Milk Shake, and Thai Tea. These meals and drinks are only a peek of Star Ice's extensive menu of Chinese cuisine and beverages. The delicious dishes, affordable prices, and friendly atmosphere make Star Snow Ice & Teriyaki a hot spot in Chinatown. (Click here for the Star Snow Ice & Teriyaki link)
#3 Six Ping Bakery (9889 Bellaire Blvd Ste D246 Houston, TX 77036)
Six Ping Bakery or Liupin Bakery is a bakery chain in Houston that is committed to creating exquisite and sophisticated desserts and snacks. They use high-grade raw materials, fresh fruits, and natural flavors in their products. Six Ping's popular items are their cakes, like the Waltz cake, Wizard of OZ cake, Earl Castle cake, and their Strawberry Ice Cream cake. They also offer bread and pastries like Red Bean with Mochi Bread, Custard Skin with Pork Sung, Taro Milk bun, Hot Dog Cheese Bread, and so much more. Six Ping's sells a variety of bread, cakes, pastries, souvenirs, wedding cakes, customized gift boxes, and other goods. The warm mood and smell of fresh bread and cake fill every corner of the room making Six Ping Bakery a wonderful place to go when you are craving something to eat. (Click here for the Six Ping Bakery link)
#4 Bambū (10613 Bellaire Blvd #150, Houston, TX 77072)
Bambū is a Vietnamese-based restaurant chain that was started in 2008 by four Vietnamese sisters– Anh, Kelly, Jenny, and Julie. They offer fresh, healthy, and authentic Chè1 dessert drinks, boba milk tea, Vietnamese coffee, real fruit smoothies, and exotic juices. Some of Bambū's popular beverages include the Bambū Special (fresh coconut, pandan jelly, logan, basil seed, and coconut water), Bambū Favorite (red tapioca, grass jelly, pandan jelly, and coconut milk), Taro Milk Tea with boba, Traditional Iced Vietnamese Coffee, Avocado Coffee (5 oz of fresh avocados with Viet coffee), and Pennywort & Coconut Juice with coconut meat. This restaurant prepares twenty house-made ingredients like fresh taro and five different beans—yes, beans. Bambū has a cheery feeling when entering, and a wide variety of drinks that everyone can enjoy, no matter who they are. (Click here for the Bambū link)
 #5 Sweet Memes Dessert & Tea (9630 Clarewood Dr Suite A-8, Houston, TX 77036)
Sweet Memes is a small coffee, tea, and dessert shop. They have a variety of coffee such as their Seasalt Vietnamese Coffee, Eggy Coffee, Taro Frappuccino, and Green Tea Frappuccino. Their teas include teas such as Jasmine Green Tea, Thai Tea, Peach Perfection (Peach w/ Green Tea, lemongrass, orange), and a Blooming Teapot with a choice of fruit or flower teas. They also offer a wide choice of fresh juice, smoothies, fruit mojitos, milk teas, cheese foam, dirty boba, fruit yogurt, and fresh fruit Yakult. Sweet Memes also offers desserts like Shibuya toast, waffles, croffles, Mille crepe, wheel cake, and Kakigori (flavored shaved iced). This cafe is a wonderful place to hang out, study, or go on a date. The best thing about Sweet Memes is that it is covered in nice and aesthetic decor to take photos of your time there. (Click here for the Sweet Memes link)
#6 Kravin Fruit Bar (10623 Bellaire Blvd c143, Houston, TX 77072)
Kravin' Fruit Bar is a family-owned tea shop created in 2012 founded by entrepreneur Thuy Pham. Kravin' has two locations, one in Houston and one in Katy. They offer smoothies such as their Smash Avocado, Wat-a-melonada, and Mangonada. Some of their teas include their Kravin' Fruit Tea, Kravin' Artichoke, Suong Sa Hot E, Pomegranate Blast, Sunset Green Tea, and Kravin' Special (with green or milk tea). You can adjust your drink's sweetness level if you wish. Kravin' also offers snow ice/shaved ice with many flavors to choose from like their Milk Tea Snow Ice, Thai Tea Snow Ice, and Strawberry Banana Bowl. In addition to the drinks and desserts, they also have snacks like their Kravin' Fries, Hot Wings, Egg Rolls, Calamari, Popcorn Chicken or Shrimp, and Coconut Shrimp. To make your drink even tastier, you can add toppings like boba, aloe vera, coffee jelly, lychee jelly, and so much more. (Click here for the Kravin' Fruit Bar link)
#7 Ishin Udon (9630 Clarewood Dr Suite A15-B, Houston, TX 77036)
Ishin Udon is a Japanese udon, curry, and tempura restaurant located in Houston's Asian town. They offer a variety of udon that is made with a traditional dashi broth and various traditional broths. Some of their udon include Kake Udon, Ginger Pork Udon, Niku Udon, Yuzu Udon, and more. In addition to their udon, Ishin also has curry udon made with Japanese curry sauce and curry rice dishes. The most interesting part of Ishin is their Italian-inspired udon, which includes their Carbonara, Kimchi Carbonara, and Shrimp Tomato Cream Udon. They also have sides for your udon, appetizers, and desserts like banana tempura. Ishin makes you feel like you are in Japan and gives you the taste of traditional and modern Japanese cuisine.
Leave a suggestion for more hidden treasures in Chinatown/Asia Town in the comments!
Upcoming restaurants:
Ten Yen Tea & Herbs (10804 Bellaire Blvd G, Houston, TX 77072)

Tan Tan (6816 Ranchester Dr, Houston, TX 77036)

Mein (9630 Clarewood Dr Suite A13, Houston, TX 77036)
Leave a Comment
About the Writer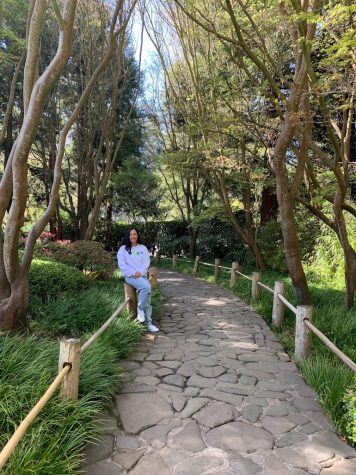 Katelyn Lam, Editor-In-Cheif
Hi! My name is Katelyn Lam, and I am a junior at Clements, and this is my 3rd year in journalism news. I enjoy golf and play for the Clements Girls'...