Natalie Cao State Tournament
Natalie Cao State Tournament Story by Katelyn Lam
         A misty morning blanketed the Legacy Hills Golf Club. A player walking to the tee box with her heart thumping out of her chest. Senior, Natalie Cao, hadn't come alone. Golf coach Jason Jezek and junior golfer Trinity Lam arrived at the Legacy Hills Golf Club for the first round.
The atmosphere was "kinda tense" Lam said.
         Their eyes were on Natalie Cao stepping up to the hole one tee box. Currently tied for 68th place. The hole was deep but the goal remained the same: relax and have fun.
         The 6A Girls State Championship is Cao's last state tournament as a high schooler. She got here by finishing two-under in the Region III-6A Girls Golf Tournament and placing third individually.
Cao struggled on the back nine and ended 5 over on her first round of state but held on strong during the front nine and ended with only one over. Cao finished the round with a total of 6 over par.
"I felt kinda down because I definitely did not play my best golf," Cao said. "I decided to put that round behind me and looked forward to the next round."
Lam noticed Cao was feeling a bit down after the first round, so she tried to find a way to cheer her up on the second day.
"I told her to just have fun, and gave her flowers and a rock with a face that said 'GO NAT'," Lam said.  
Coach Jezek also noticed Cao's disappointment in her first round.
         "[I] Just said to go play the game and have some fun," Jezek said. "There was nothing to lose, so just go play."
Cao changed her mindset for the second round of state.
"I had a different way of thinking on the second day," Cao said. "I made a goal to make 6 birdies that day to make up for the bogeys I made the day before."
Trinity noticed Cao'schange and knew that Natalie would be better than the first round.
"During the second day, I noticed she walked ahead most of the time which kinda told me she was in a better mindset," Lam said.
Coach Jezek also noted a difference. 
"On day 2, she had her game face on and was laser-focused from the time we got there to the course," Jezek said. "It's hard to really describe, but with her, it was clear that she had a different focus/mindset on day 2."
Cao started the second day with four birdies on the front nine holes.
"I was just thinking of playing the course one hole at a time," Cao said. "This allowed me to completely concentrate on the hole I was on."
Natalie kept going strong through the back nine and finished with a total of 70 for her second round of state.
"I was pretty motivated to do well because it was my last high school tournament ever," Cao said. "I wanted to go all out and end my high school golf career on a good note."
Natalie's tournament total was +4 and made an amazing comeback tying for 8th.
"I was pretty happy with 8th as I had made a pretty good comeback," Cao said. "I knew the only way to go from my current position was up."
Lam was even more impressed
"To go from T68 to T8 is amazing," Lam said.
Coach Jezek was proud of Natalie's last high school golf tournament and performance, and he will never forget this moment with Natalie.
"To finish in the top 10 in 6A in Texas is an amazing accomplishment," Jezek said. "I have been blessed to have some really great players here at CHS, and have even had the honor of being the coach of a state champion…and they are all special.  I am super proud of her [Natalie] and I know she is going to do great things."
Leave a Comment
About the Contributor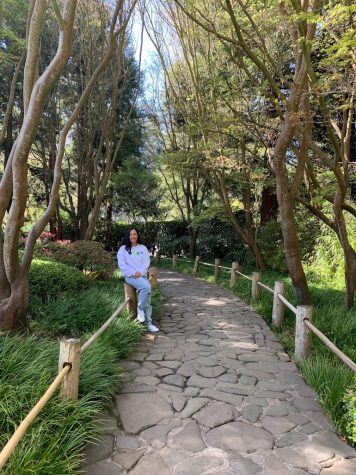 Katelyn Lam, Editor-In-Cheif
Hi! My name is Katelyn Lam, and I am a junior at Clements, and this is my 3rd year in journalism news. I enjoy golf and play for the Clements Girls'...