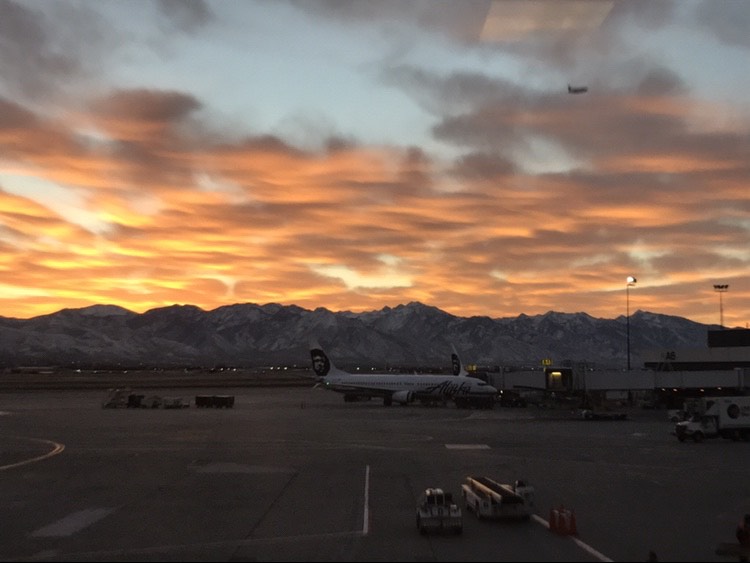 "Ginger, You're Accepted!"
As soon as I read those words atop the Baylor website, I was at a loss for my own. I could not believe my eyes as I watched the fireworks practically pop out of the screen. When I finally came to terms with what this meant, I found myself running around the house screaming like a maniac. I'd just gotten into my dream school. What else was I supposed to do?
Throughout the course of my 13-year education, I have spent countless nights cramming and sacrificed numerous weekends studying. Life has definitely been anything but blissful, but I must say, every single one of those long nights and stressful weekends is finally worth it.
Now that I can finally say that I know where my future will go, I'd like to take a moment to reflect on my past. This year, I will be graduating. I am the Class of 2020. For so long, that felt so far away. Now, it's in less than six months? Where did the time go?
Well, I spent my first four years of life at Primrose Pre-School. I don't remember much from those years, all except for one day when I accidentally took home a little toy pig. I remember the devastation and guilt that I felt, and when I went to school the next day, I cried as I confessed my crime. Now that I'm older, I know it wasn't a big deal, but it was huge to Little Me.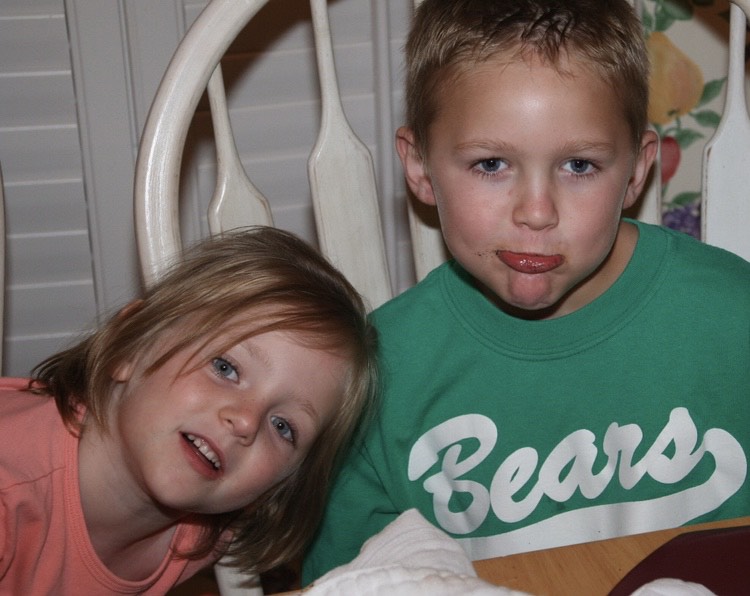 [Pictured: me (3 y/o) and my brother, AJ (6 y/o)]
(My brother has been my best friend since the time
I was born. He'll be shown in several later pictures, too.)

The next six years of my life were spent at Lakeview Elementary School. That was the place I began learning a little about myself, such as my love for music or my hatred for art (because I could never even draw a simple stick figure right). I remember one of the most important things to me was that everyone around me felt accepted, if not by their classmates, then at least by me. I wanted everyone to know they had a friend in me. That's a trait that I'd like to hope that I've kept throughout the years. Of course, there was the iconic elementary school 'relationships' filled with emails and awkward hugs. Oh, and don't forget the drama that ensues when someone reveals your crush! I consider myself a little bit of a dork back in the day, but I can say I was content with who I was becoming..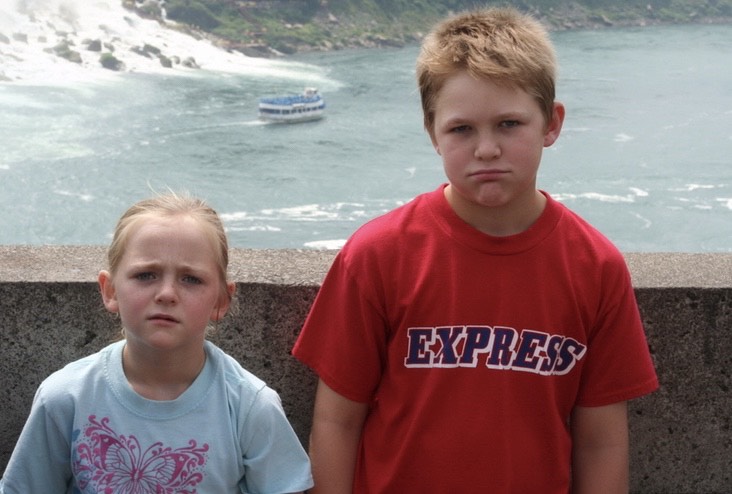 [Pictured: Me (6) and AJ (8)]
(This gem was captured during one of our family trips to
Niagara Falls. You can tell how excited we were!)
The summer after I graduated from fifth grade, my family and I moved houses. My brother wanted to go to Clements, so we left the Kempner zoning area. What did that mean for me? Going into middle school, without a single friend. This is a problem that I know many kids have to deal with sometime in their lives, and trust me, you're lucky if you don't! But, I had to make do at Fort Settlement Middle School for the next three years of my life. And, at first, like many would agree, it was not easy. As an 11-year-old new to makeup, I thought it would be an amazing idea to wear striking blue liquid eyeshadow every single day. Unbeknownst to me, I became known around the school as the "Blue Eyeshadow Girl". Great start to sixth grade, am I right? To this day, I still have people come up to me and ask, "Wait, weren't you the Blue Eyeshadow Girl in middle school?" Luckily, however, I grew out of that phase relatively quickly. But trust me, I still went through all of the awkward phases. In seventh grade, I went to the fall dance with this boy. Well, "went" is a strong word. I avoided him the entire time and called my father to pick me up early. Now, I know how terrible that sounds. But, I promise, it wasn't because I wanted to be mean! I was genuinely terrified to talk to him because my awkward self didn't know how to talk to boys. I got a little better throughout the rest of my time at Fort Settlement, but then again, it wouldn't be middle school if it wasn't full of cringy appearances and awkward situations!
[Pictured: Me (13) and AJ (15)]
(By this time I'd grown out of the blue shadow, but I wasn't
exactly making the best style choices. This picture was taken
at a museum in Las Vegas.)
After graduating from eighth grade, I felt so old. I was going into high school; I couldn't wait! So, the next year of my life was spent as a freshman at Clements High School. And, quite honestly, that transition could not have been worse. As a part of the youngest students of the school, I was confronted with a lot of social anxiety. I had to learn how to get over that awkwardness I had taken from middle school in order to transition to the 'normal' high school students I saw all around me. In short terms, this year of my life, I was a Mess. One huge thing that came from Freshman Year was my newfound dream: Baylor University. My brother was a senior at Clements at the time, and he committed to Baylor early on. Soon after, our entire family made a trip to Baylor. The first time I stepped onto that campus, I felt my future there. In that moment, I knew where I wanted my future to go. So, even if my Freshman Year was all over the place, I finally knew where my life was headed.
[Pictured: Me (15) and AJ (17)]
(This was taken during my first Baylor Football game.
It was right around the time when I realized that Baylor was my future.)
Sophomore year of high school, there was one big life-changing occurrence: I joined the Clements Newspaper. We were a crew of only five people, so our class was super close. I met my future co-editor, Leila Stewart. We ended up taking newspaper beyond the class and experienced new adventures what seemed like every week. After nearly calling the police, walking into a house filled with smoke, saying our goodbyes (just in case), preventing a house fire, saving a bunny's leg, proposing for prom, and having a group mental breakdown in the middle of a restaurant all in one night, I would definitely say that Sophomore Year was an eventful time. This was the year I finally found my place and was able to truly find myself for the first time in my life.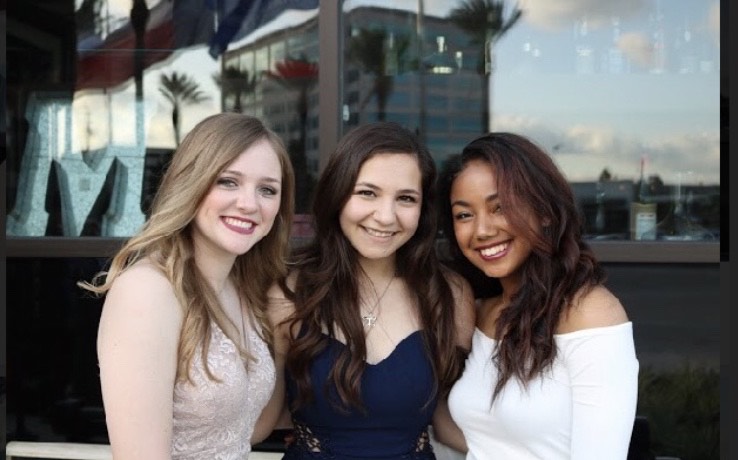 [Pictured: Me (16), Abby (18), and Leila (16)]

(Leila and I asked Abby to our own little personal prom as a "last
hurrah" before she left for college. It was a memorable night full of
laughter and love!)
Up until this point in my life, I had various struggles, but nothing as significant as the trial I faced in my junior year. During my third year of high school, I had my first experience with the death of someone close to my heart. My dog, Booey, who I grew up with as a child, passed away on January 28, 2019. I had no idea the toll that this event would take on me, and quite frankly, I did not know how I would get past it. No matter how much I struggled, I only grew from the experience. Before this, I had lived in a state of "rainbows and butterflies" you could say. I almost believed that nothing could happen to me. This experience forced me to realize that anything, good or bad, can happen to anyone at any time. Although this may seem grim, it actually helped me to appreciate the things I have now and to always live as though any day could be my last. It was a very hard time for me, but Booey will forever be in my heart, and the lesson that I learned from this point in my life will never be forgotten.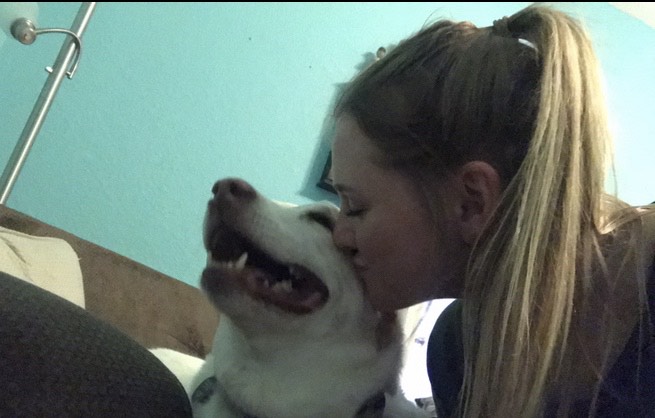 [Pictured: Booey (9) and me (16)]
(I used to take photoshoots with him all of the time. He was
always the prettiest boy.)
As soon as Junior Year ended will senior year just around the corner, the fear set in me. I am officially a senior…already? It all went by in the blink of an eye, and now I am in my senior year. The beginning of this year was filled with anxiety and stress over college apps, but now, my future is set. I've been accepted to Baylor; it's where I will be in just nine months. Now, I have to make the best of the last year I have here. I used to want to get out of this place as fast as I could, but now, I'm scared. In fact, terrified! How will I leave all of the people and places I've come to know for so long? How will I graduate knowing I may not see these people ever again in my life? Part of me longs to be away, experiencing a new chapter of my life. The other part, however, is unsure of what is to come. I know that no matter what, I will not forget those who have impacted my life these past four years. I will not take any of my experiences for granted. These years went by so fast. Before we know it, high school will be over, and we'll be turning the page to the next chapter of our lives. I have no way of knowing what is to come in the next few years of my life. None of us do. All we can do is make use of the time we have now and look forward to what is to come of the future!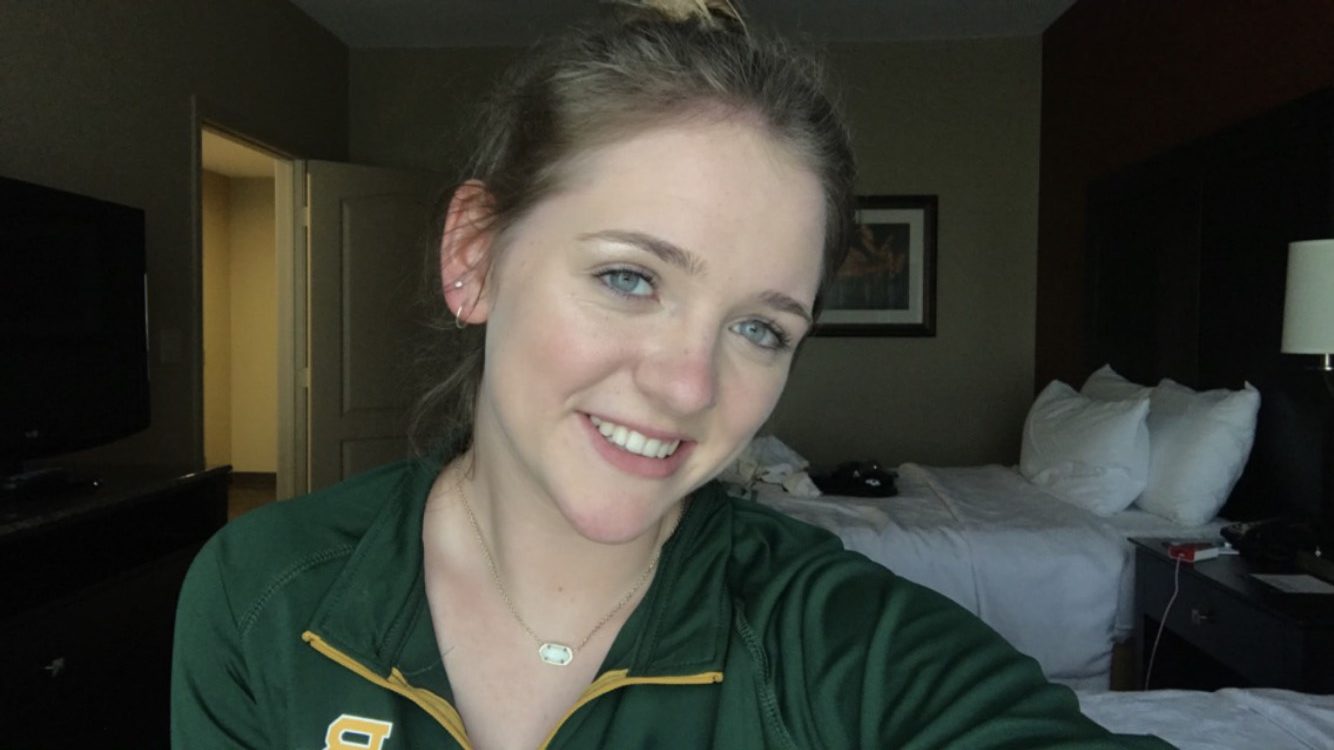 [Pictured: Me (17)]
(Here, I am sitting in a hotel room in Waco, Texas, wearing my Baylor apparel,
excited to step on the Baylor campus yet again. Sic 'em Bears!)