Origins of the New Kid
Hang on for a minute...we're trying to find some more stories you might like.
Pacing back and forth on the cement, Abhiram looks at the wispy clouds and reflects on all that has happened to him in the past four years and how he has gotten to this moment.
Resting his chin on the palm of hand he plays a reel of his life in his head, flipping through the pages of his diary: the source of inspiration. 
"My goal is to make a film where people can vibe to and also be entertained," Senior Abhiram Mulam said. But reaching this goal was not so simple.
Abhiram describes himself as a kid who was never given the support he desperately needed growing up.
"My parents never supported me when I said I wanted to be an actor," Abhiram said. "They're like 'oh it's just a dream you're just joking around' and my friends would all laugh it off like 'oh, you're never going to be what you want to do' they always criticized my dream."
He says he "never got a chance in theatre to be an actor" and was always backstage in the production crew. His desires were not fulfilled. 
It took him a while to act on these dreams and he spent the majority of his adolescence isolated from his peers. He was frustrated and felt that he was at a disadvantage because of the way that people viewed him. 
"I wanted to change myself as a person but I was never given a chance because I was considered weird and I was also going through puberty," Abhiram said. 
It is this experience that compelled him to make a story and to live a life better than the one that he had before. 
"I don't want anyone to be by themselves because I used to be that person," he said. "I literally had no friends and no one would want to talk to me until I broke from my little circle and I was like 'hey, maybe if you're a little more open you can make more friends' and you can be known."
Once he broke out of his shell, he tried to help other people in similar situations.
"I've seen students at lunch mostly that sit by themselves and don't like anyone to talk to them and I usually go myself and go to them and ask their name and give them a fist bump and spent time with them," Abhiram said. "I like to meet new people and like to introduce myself as a person."
He took this one step further by creating a film encompassing this essential idea, "if there's a student that's new, you should introduce yourself."
Throughout this transformation, a breakthrough happened.
"Experiences changed me and I want to do something that no one else has done in this school," Abhiram said. "One day Mr. Clayton gave me a chance to make my own film and cast my own actors."
Moving forward, he used recollection from his own life and the help of newfound friends to create the scripts that would end up becoming his three featured films at school.
"I wrote these stories in my diary and I used to share it around," Abhiram said. "One of my friends liked my story and said he would help me out and then more and more people wanted to be involved."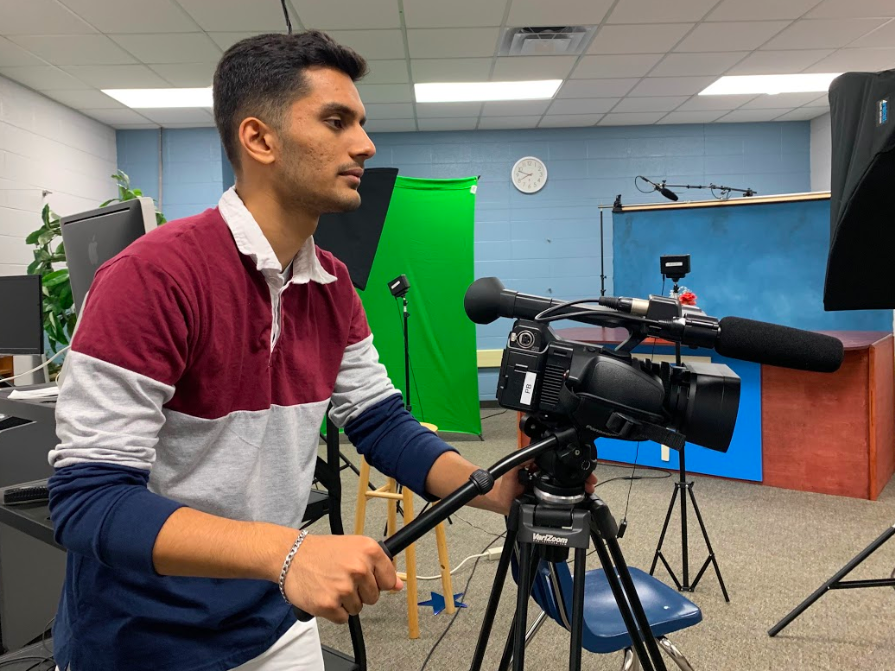 He created his first film, "Student of the Year," at the end of the 2018-2019 school year and continued to make films and to work on his school over the summer. This year, he created the New Kid and its sequel. 
He says hopes that people can watch this story and be inspired.
"I just wanted people to know that I was once one of them," Abhiram said. "I was just like you, I didn't have nobody but I opened my bubble but I sparked something."
Outside of just his films, he strives to be a good influence as a person. 
"I wanted to spend time with people and be that positive aspect in their lives-never that negative person," Abhiram said. "I just want to tell them, hey you're capable of doing bigger things in life." 
Abhiram has a new story coming out around December and says he encourages people to be on the lookout.
If you're interested in being a part of one of his next films, you can talk to him during Mr. Clayton's fourth-period broadcasting class in room 2812.
About the Writer
Leila Stewart, Editor in Chief
Hello my name is Leila Stewart and I'm the editor in chief! This is my senior year and fourth year in Newspaper. I also am the President of the African...