Lost NFL player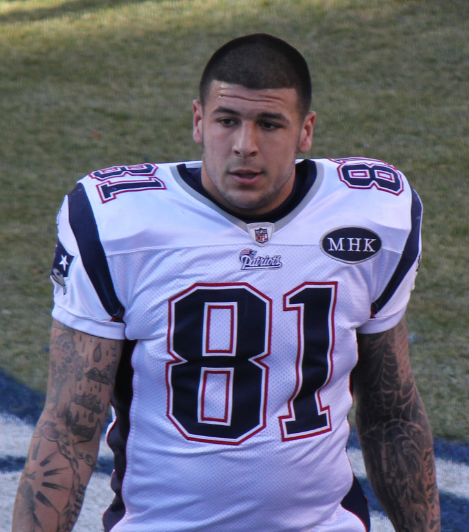 Aaron Hernandez once said, "You get changed by the Bill Belichick way, you get changed by the Patriot way." He always had the utmost respect for all of his team members and coaches, and they respected him just as much; no matter the situation, that was the type of person Aaron Hernandez was.
Hernandez was born on November 6, 1989, and was a tight end football player in the NFL. As a Florida Gator junior in 2009, Hernandez won the John Mackey Award, an award given annually to the nation's best tight-end. He ended his college football career with 111 receptions for 1,382 yards and 12 touchdowns. After his incredible junior year, he decided to quit before his senior season and enter the 2010 NFL Draft where he was chosen by the New England Patriots in the 4th round and was the 113th pick overall. He was the youngest player on the NFL roster.
Hernandez's girlfriend of 5 years, Shayanna Jenkins, had a daughter, Avielle Janelle Jenkins-Hernandez who was born in November 2012. They were married the same month.
After three seasons with the New England Patriots, his career came to an unfortunate end during the 2013 offseason.
Hernandez was arrested and charged for the murder of Odin Lloyd. He was found guilty of first-degree murder in 2015 and sentenced to life in prison without the chance of parole. While on trial for Lloyd's murder, Hernandez was accused of the 2012 double homicide of Daniel de Abreu and Safiro Furtado, but he was proven innocent in the 2017 trial. After his innocence was proven, Aaron Hernandez was found dead in his cell on April 19, 2017. This was ruled a suicide.
Hernandez's defense attorneys have requested to abandon his murder conviction due to his death, and if their request is granted, Hernandez will have died an innocent man.