Getting The Drumline Back In Line
Dut.  
Dut.  
Dut, Dut, Dut, Dut! 
 The center snare makes eye contact with the center marimba and signals the start of the drum break. Every member of the drumline is marching their dots, while the pit plays arpeggios accompanied by cymbal crashes. The bass drums master a split rhythm, the tenors move their hands quickly, and the snares catch their drumsticks after performing a trick. This is what would typically happen in a normal Clements marching season, but this year is not like any before.  
The Clements band program has been hurt severely this year, and it won't get back to normal for at least three more years. COVID-19 dropped the number of middle school students that wanted to do band, since they wanted to shy away from in-person activities, and Fort Bend ISD made some drastic zoning changes which made the middle schools that mainly feed Clements start to feed Elkins more. This led to the directors, show writers, and drill writers having to come up with something new to be able to accommodate the significantly smaller percussion section. 
"Last year, we graduated nine and we only got three [percussionists], so our numbers are way, way down," Percussion director Bryan Waites said. "The thought process was instead of doing a very small drumline, where we may not have full drumline like snare, tenor, bass, and a very small pit where we might only have three marimbas, and two vibes, that we could be more effective if we take our percussion ensemble approach and do big marimba, big vibes, with a lot of percussion, and then we could sound like a snare line. The thought process was also the education level would still be more rounded than it would be if we had three snares and four bass drums or three marimbas, two vibes, and two rack players. So, what we're creating from a sound standpoint is way bigger than what we would create divided into small batteries and a small pit. We can create a much bigger orchestral, symphonic sound when we are all together than we could [if we were] split into two separate sections." 
 The percussion section was quite shocked when the news of this new plan was broken to them during May marching. The majority were very pessimistic at first, because this had never been done before at Clements. They understood the choice, but still, it was foreign to have everyone balancing both front ensemble and drumline, but that is what had to be done for success in the 2022 marching season. There would be a usual size pit, but during part 2, some of the percussionists would pick up drums and play a snare feature and return to the front ensemble right after. Since this was unusual, more work had to be put into this show by every percussionist. 
"I think we are adjusting well," senior drum captain Kyle Le said. "At first many people didn't like this idea, but over time, we realized that this is the best way to combat our shortages of players and we have accepted it and worked hard." 
After a lot more work, and further into the marching season, the percussion section is making it work. It was scary at first, but it looks like after a little more time spent at rehearsals getting the music and balance down, this year could very well turn out successful. 
"Even though the percussion section is smaller, I think that we are pushing through," freshman xylophonist Chris Li said. "Adding many drum splashes through the percussion and a snare section allowed for many to forget about our loss of the drumline. This section I predict, albeit small, will go great and will be a very memorable part for the CHS band and guard." 
Leave a Comment
About the Writer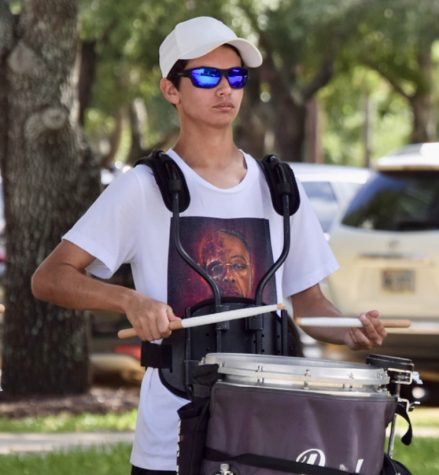 Jonathan Lorine, Reporter
Hi, I'm Jonathan Lorine. I am in 12th grade, a member of broadcast journalism, and the CHS drumline. I enjoy taking photos, playing my instrument, and...